What Happens When a Terrorist Posts His Attack on Facebook Live?
The slaying of a French police captain and his companion pose questions about social media.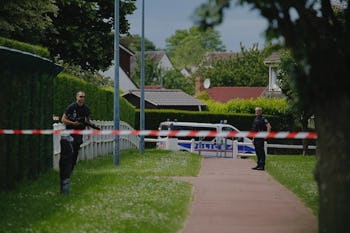 Facebook Live has been used for all sorts of broadcasts since its rollout at the end of last year: BuzzFeed's watermelon explosion, a woman's ecstatic Chewbecca mask debut, and even the accidental live-stream of a woman giving birth. But on Monday evening, the slaying of a police officer and his companion in a suburb outside of Paris — and the ISIS-associated killer's Facebook Live steam from the murdered couple's home — took the previously-whimsical tool to a much darker place.
Killer Larossi Abballa stabbed police captain Jean-Baptiste Salvaing to death outside his home before taking his companion and 3-year-old son hostage inside. The assassin also killed the officer's companion and posted photos of his victims on Facebook — then took to Facebook Live for a 13-minute rant calling for more killings with the 3-year-old visible in the background. The Islamic State has claimed responsibility for the murders after French police stormed the house and killed Abballa.
Facebook has taken down Abballa's page — but the post raises larger questions about the responsibility of social media companies to curb terrorist recruitment and propaganda on their platforms.
"We are working closely with the French authorities as they deal with this terrible crime," a Facebook spokesperson tells Inverse. "Terrorists and acts of terrorism have no place on Facebook. Whenever terrorist content is reported we remove it as quickly as possible. We treat take-down requests by law enforcement with the highest urgency."
As pressure from U.S. officials has mounted, Facebook and Twitter have increasingly stepped up their efforts to quash terrorist-aligned content on their sites in the last year. In January, senior Obama administration officials flew to Silicon Valley for a terrorism summit. In response, Facebook strengthened its efforts to delete profiles that are supportive of terrorism and helps promote "counter-propaganda content that discredits terrorist organizations." For its part, Twitter announced in February that it deleted more than 125,000 terrorism-related Twitter accounts.
But livestreaming is a more tricky issue than personal accounts: Facebook Live posts can be shared widely and pick up millions of viewers. And since Facebook Live videos are set to auto-play on users Newsfeeds, the power of a disturbing livestream to beam into unsuspecting viewers' homes is magnified.
Without a rapid response from Facebook, livestreams of terrorist attacks present a whole new method of recruiting sympathizers and terrorizing viewers. It's a disturbingly potent platform for terrorists if Facebook doesn't curb it effectively, one that could allow terrorists to take all of us hostage as witnesses to the play-by-play of terror.