The 6 Best Trailers From Xbox's E3 Presentation, Ranked
From 'Scalebound' to 'Dead Rising 4,' these are the best trailers from Xbox's conference.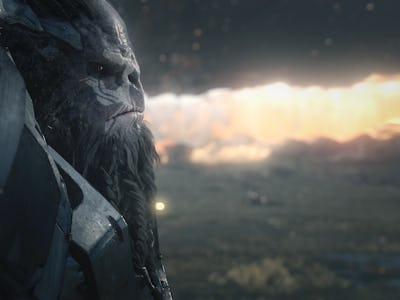 Xbox
While Xbox is lagging behind in this generation's console wars, Microsoft put on a solid showing at the annual Electronic Entertainment Expo (E3) in Los Angeles this year. While its games were solid, the real spotlight was on the new Xbox One Slim and the 2017 console, Project Scorpio, a 4K-enabled machine that Microsoft is banking on will be the most powerful on the market when it's released.
But that was then. This is now, and now Microsoft had some pretty impressive gameplay footage of its new titles. There weren't a lot of shocking announcements trailers or teasers, but that's kind of hard to do when you want all eyes on your new, shiny console.
6. Halo Wars
Halo Wars, the RTS prequel set in the Halo universe, is back after its first game from 2009. The pre-rendered trailer looked gorgeous, but not a hell of a lot was revealed besides its mere existence. Still, it's pretty.
5. ReCore (Gameplay Trailer)
The long-awaited game from Keiji Inafune and the geniuses behind Metroid Prime finally revealed its gameplay, showing off a third-person platformer that looks a lot more fun than we expected. The game's main protagonist is assisted by four quirky robots, each with a specific function.
4. Scalebound (Multiplayer Trailer)
This is the kind of dumb fun video games are at their purest form. The Devil May Cry-esque third-person action game with flying dragons showed off its multiplayer functions, emphasizing different weapons like spears and giant broadswords for each player.
3. Gears of War 4
While not a real "trailer," the gameplay reveal of Gears of War 4 was appropriately bonkers and ridiculous and everything you could want in that insane franchise.
2. Xbox One S
Of course it's not a trailer for a game, nor is it even that great of a trailer by itself. But it is beautiful to see that pearly white console in its glory. If only this were the console Microsoft released the first time.
1. Dead Rising 4
One of the most pleasant surprises at E3: the return of Frank West in Dead Rising 4 set to holiday jingles perfectly embodied the gleeful chaos in Capcom's best-selling zombie games. Batter up.