Artist Imagines Dark Blue iPhone 7 in New Concept Images
Martin Hajek created the images based on a rumor circulating.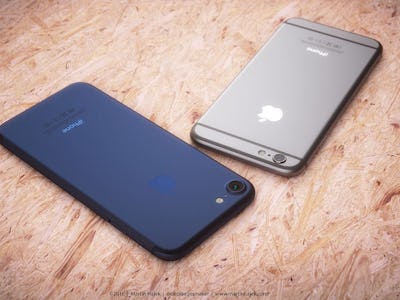 Martin Hajek
A Dutch artist has created images of what the next iPhone may look like. Expected to launch this fall, a report from Mac Otakara claims that the iPhone 7 will ditch the "space grey" option for a "deep blue" color. Artist Martin Hajek has created images that show what this may look like, with fantastic results.
"Deep blue" could end up being one of the new iPhone's headline changes. If recent rumors are to be believed, the iPhone 7 may be a bit of a lame duck. Apple is reportedly planning to make little changes to the phone, saving bigger changes for the 2017 iPhone. All that is planned for this year's device, rumors suggest, is minor cosmetic changes, speed improvements, and the removal of the headphone jack.
Some changes may be limited to the larger 5.5-inch iPhone 7 Plus. These include a Smart Connector, used on the iPad Pro to attach a keyboard (and which can also charge the device with a third party dock), and a dual lens rear camera. This camera would be used to improve picture quality and potentially provide better zoom functionality. Unfortunately, these features are both rumored as missing from the 4.7-inch iPhone 7.
It could make sense for Apple to ditch the "space grey" color. Apple originally switched to "space grey" after angry customers reported the black coloring on the iPhone 5 was prone to scratching. For the 5s, Apple switched to a lighter color, presumably in part to avoid the issue arising again. However, Apple has struggled to maintain color consistency across its "space grey" devices, a slight mis-step for a company committed to design details. "Deep blue" could put the issue to bed once and for all.
Even if the iPhone 7 doesn't change too much, Hajek's images are stunning. If this is what Apple's next phone looks like, it may come as a welcome design refresh in a year with little else changing in the way of external design.