Here's What To Expect at WWDC 2016: iOS 10, macOS, watchOS 3, and tvOS 10
All eyes are on Apple this afternoon.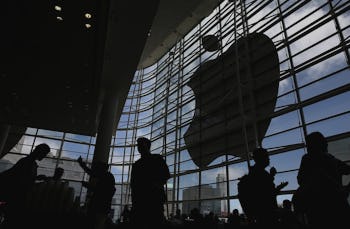 Getty Images
Tech fanatics, get ready. Apple will take to the stage at 2pm Eastern time Monday for its annual Worldwide Developers Conference. Although the show is technically aimed at developers, over the years it has morphed into a catch-all show for Apple to reveal to the public what it's been working on. The announcements, which tend to focus on big software upgrades, are still ones that would interest developers though.
Unlike hardware, where part suppliers may leak secret upcoming gadgets, Apple is very good at keeping its software secret. Nonetheless, here's what we might see.
iOS 10
The biggie. The tenth version of Apple's mobile operating system will likely arrive as a free upgrade in the fall. One artist has imagined what iOS 10 might look like, with emoji keyboard search and optional dark mode.
One rumor constantly surfacing is that Apple is set to give Siri a major makeover. A Siri application programming interface, which Recode reports may arrive soon, would mean apps like Spotify or Facebook could build voice commands that Siri would recognize.
A HomeKit rumor that spread around the web turned out to be false, so don't expect much in the way of smart home control goodies.
macOS
Recent leaks from Apple itself suggests the company is gearing up to change the name of its Mac operating system, OS X, to something more in line with the rest of its products. Whether that means macOS will be version 11, version 10.12, or named after a place in California is anyone's guess. The current version is OS X 10.11 El Capitan, which doesn't exactly roll off the tongue.
macOS is rumored to bring Siri to the Mac. This could transform how people use their Macs by making simple tasks quicker than ever.
watchOS 3
There's been almost no reports of what watchOS 3 might bring. The only reason we think we may see it is that Apple tends to unveil big software releases at WWDC, and that's where they unveiled watchOS 2 last year.
Apple can upgrade watchOS in plenty of ways, though. Speed is still a major concern for many, both in terms of how long it takes applications to load and how long it takes to complete tasks. Dieter Bohn has criticized the Apple Watch for the latter, which could be fixed through software updates that simplifies app access or adds more shortcuts.
tvOS 10
Like watchOS, it's more guessing that we even think a tvOS 10 exists. There are plenty of places Apple could improve though. A dark mode, for cinema setups, wouldn't go amiss. The current almost-white interface can be rather blinding.
tvOS 10 could also help improve gameplay. The slowly-growing marketplace of titles could receive a boost if Apple drops its requirement for games to always support the touchpad remote. This would open the door for games that take better advantage of traditional controllers.
The update will be the first major update to the Apple TV since its App Store first launched. How developers will react to Apple's update, particularly at WWDC, is the big question.