Google Says Autocomplete Is Not Politically Charged
After being accused of giving Hillary Clinton special advantages with its Autocomplete function, Google hit back today to say that's not how their search engine works.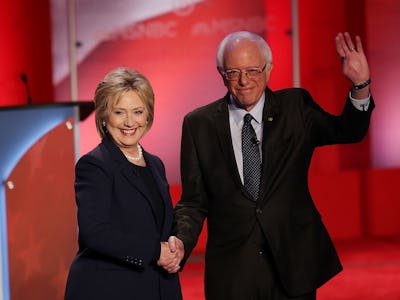 Getty Images / Justin Sullivan
Not too long ago, a new video report from SourceFed alleged that Google was giving special privileges to Hillary Clinton, blocking out users' ability to easily search terms such as "Hillary Clinton indictment." The focus of the report was not the results of the search, but the actual autocomplete function, which SourceFed claimed differed from that of Bing and Yahoo under the same especially scientific tests.
Today, Google's Vice President of Product Management, Tamar Yehoshua, took to the company's blog to shut the claim down, stating that Google's autocomplete filters out negative remarks attached to someone's name. "The autocomplete algorithm is designed to avoid completing a search for a person's name with terms that are offensive or disparaging," said Yehoshua. "We made this change a while ago following feedback that Autocomplete too often predicted offensive, hurtful or inappropriate queries about people. This filter operates according to the same rules no matter who the person is."
The output of predictions can change based on a variety of factors as well, explained Yehoshua. "Predictions are produced based on a number of factors including the popularity and freshness of search terms. Given that search activity varies, the terms that appears in Autocomplete for you may change over time."
The blog post welcomed feedback from all users of Google Search, and clarified that regardless of what comes up during the first three letters of autocomplete after someone's name, Google does not limit the search results in favor of anyone. "You can still perform whatever search you want to, and of course, regardless of what you search for, we always strive to deliver the most relevant results from across the web," said Yehoshua, stating again that Google takes its responsibilities very seriously. "From the beginning, our approach has been to provide the most relevant answers, and we'll continue doing just that."
No further comment from Google or SourceFed has been released at this time.