The 9 Most Anticipated Horror Games Of Summer 2016
It's never too bright out to get scared.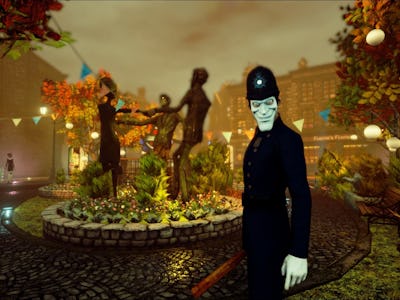 Compulsion Games
Just because it's the summer and the sun is shining doesn't mean things can't be spooky. 2016 is loaded with some sweet new horror games, with a few coming down the pipe in just a couple weeks.
While several games, like Routine for the PC and Inside for the Xbox One, only have 2016 as a target release, they're more than worthy of having on your radar for the rest of the year. You wouldn't want to be caught by surprise, would you?
Shut the blinds and crank up the AC. These are some of the best horror video games to look out for in the next few months.
9. We Happy Few
What if Tim Burton rebooted 1984, but back when Tim Burton was a visionary and not considered cheesy? That dark mirth characterizes the feel of We Happy Few from Compulsion Games, coming to Xbox One, Windows PC, and Linux later this month. Set in a dystopian English village in an alternate 1964, the townspeople are hooked on a drug called "Joy", which puts them in a euphoric state so they can forget "A Very Bad Thing", which drove the Nazis out.
The player controls a "Downer," a citizen who doesn't take Joy. Downers are shamed and hunted by citizens and law enforcement. It's the player's job to escape the city while stealing food and water to survive. But doing so raises suspicion, though you can hide among the people who pursue you by taking a dose of Joy yourself. Just don't get addicted, or you lose the game.
8. Routine
The long-awaited PC game from LunarSoftware is the Alien game you wanted, and the game that Alien: Isolation almost delivered. This lo-fi explorer set on an abandoned moon base has you investigate the mysterious disappearance of the base's staff. While its development has been maddeningly long, the studio is aiming to release it this year.
When you see what Routine has to offer, you might get what is keeping the good folks at LunarSoftware occupied. Multiple endings, depending on player actions, a procedurally generated environment, and a fully immersive experience with no HUDs or health bars to distract you are all a part of Routine. Oh, and when you die, you die. Good luck!
7. Resident Evil 5
Though hardcore Resident Evil fans will be the first to tell you that Resident Evil 5 isn't scary, it is a solid pregame for the fall re-release of the classic Resident Evil 4 on modern consoles. After Resident Evil 6's re-release last spring, Resident Evil 5 will arrive on Xbox One and PlayStation 4 on July 12. Bring a friend, because the AI might still be dumb.
6. Inside
A spiritual successor to Playdead's eerie black and white sidescroller Limbo, Inside ups the ante, with 3D visuals and an even crazier atmosphere. A lone boy tries to save the world from an overwhelming oppressive force. If the game's E3 2014 trailer doesn't stress you out, you must not be human.
After a long development period, Playdead expects to release Inside sometime in 2016 for the Xbox One.
5. Attack on Titan
While the game will lack the anime's apocalyptic horror elements in favor of fast-paced action gameplay, Attack on Titan for the PS3, PS4, Xbox One, and PC is shaping up to be the definitive Attack on Titan experience. And, really: When you're flying at high speed straight into the dead eyes of a giant who wants to eat you, don't pretend that isn't terrifying.
The game is slated for release in North America on August 30.
4. What Remains of Edith Finch
This PlayStation 4 exclusive from the people who made The Unfinished Swan is an anthology centered around a cursed family, the Finches, in Washington state. Each story, played from a first-person perspective, focuses on a different member of the Finches from as far back to the 1900s and ends with that member's death (Spoilers?). In between, players follow Edith Finch who tries to figure out why she's the only one left alive.
Similar to another game on this list (scroll down), this asymmetrical multiplayer (4 versus 1) from Behavior Interactive is an homage to eighties slasher flicks that pits you against — or as! — a killer in a remote area of the woods. You can team up with fellow survivors, unless you think it'll slow you down…
The game releases on June 14 for the PC on Steam.
2. Perception
Expats from the BioShock and Dead Space teams started their own eerie creation, Perception, which was successfully funded on Kickstarter. You control a blind girl who "sees" through sound and echolocation while exploring a haunted house on Echo Bluff. A unique take on the haunted house narrative, Perception is truly unlike anything you've played before.
While initially scheduled to release in June, an email from the game's PR rep told Inverse the game won't be released this summer. We can always hope for a hail mary, though, right?
1. Friday the 13th
This is more than just any licensed adaptation. A true homage to the Friday the 13th franchise and the '80s horror tropes it defined, the video game Friday the 13th is an asymmetrical multiplayer game where one player controls Jason and the others play counselors of varying archetypes (The Girl Next Door! The Jock! The Edgy Guy!) trying to flee Camp Crystal Lake or kill Jason once and for all.
Originally its own game called Summer Camp, the holders of the Friday the 13th license reached out the game's studio and turned what was to be a love letter to eighties horror became the real deal.
Friday the 13th isn't coming until this October, which, of course, isn't quite this summer, but the Gun Media's YouTube channel has no shortage of videos on the game to keep you satisfied until its release.