Next 'Destiny' Expansion 'Rise of Iron' Coming This Fall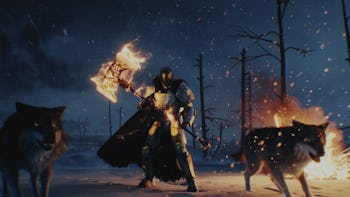 Bungie, Activision
If you're one of the many Guardians who logged off from Destiny, now might be the time to get back in the fight. Ahead of E3, Activision and Bungie have announced Rise of Iron, the next major expansion to their 2014 hybrid online shooter Destiny set to release on September 20 this year. It will retail for $30 and will be available on PlayStation 4 and Xbox One.
Included in Rise of Iron are the usual fare, such as a new area on Earth called the Plaguelands (with a social location), a new six-player Raid dubbed Felwinter Peak, a new three-player Strike, a Light level increase, and of course more quests, weapons, a new faction of the Fallen, and a whole new competitive multiplayer mode. Specific details are scarce, but with E3 in a few days it's likely there will be more announced then even if Activision won't physically be at E3.
The press release also teases an ally, a "legend from humanity's Golden Age," as well as the ability to acquire Gjallahorn. And if you preorder starting June 9 (today!), you'll get the limited edition black and silver Iron Gjallahorn.
And yes, there's a trailer, with a lone Guardian narrating while surviving on the new Plaguelands.
All Rise of Iron players will be able to acquire Gjallarhorn, a fan favorite weapon making its return. Those players who preorder beginning June 9th will receive the limited-edition, black and silver Iron Gjallarhorn.
It's worth noting that in order to play Rise of Iron, all previous Destiny content will be required, including The Taken King.