Nurse Pam Strangles Jason's Origin Story in 'Wayward Pines'
"Once Upon a Time in Wayward Pines" is a fairy tale, complete with dead people and weird sex stuff.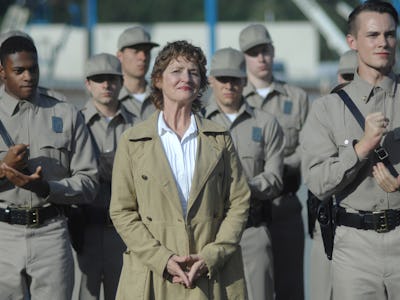 Fox
The town of Wayward Pines wants to be in a fairy tale. The little picturesque village is suffocatingly structured for perfection, where young girls transition seamlessly into motherhood, without any other options. It's a perfectly awful place to live.
Last night's episode, "Once Upon a Time in Wayward Pines," apes the fairy tale formula to further refine the characterization of Jason Higgins (Tom Stevens), who if it hasn't been clear, has been promoted to big villain since his bit part in Season 1. Mimicking other genre TV fables like ABC's Once Upon a Time and the CW's Arrow, Wayward Pines adopts a flashback structure, with guest star Melissa Leo reprising Nurse Pam to show just how far back this trouble goes.
"Once Upon a Time in Wayward Pines" isn't dwelling entirely on the past. It continues Dr. Yedlin's (Jason Patric) resentful story in this apocalyptic paradise, but of most importance is showing the entitled prince Jason was bred to be. Pam returns from a weathered house on the edge of town, an arrangement between her and Jason after the "Invasion" (the Season 1 finale). She's hiding a fatal agenda, but Megan (Hope Davis) will reluctantly and briefly team with Dr. Yedlin to foil her plan to unleash a smallpox virus on the town. She believes Wayward Pines is gone, with her brother David, who keeps a posthumous presence over the town like a ghost. For Jason, seeing Pam again was like seeing a ghost.
There's purpose to the flashbacks, which are executed well, even if they are too reliant on the bloom SFX from the premiere. Jason isn't on Joffrey's level, but he absolutely has a twisted view of justice and order in Wayward Pines. He's the kind who will tell the truth over facts. Did he kill Ben Burke? No, the Abbies who killed Ben. He only exiled Ben.
"Once Upon a Time in Wayward Pines" is yet another instance of Season 2 eliminating a Season 1 mainstay for good. The premiere unceremoniously killed off Kate, while last week's "Blood Harvest" ominously foretold the death of Ben in its title (ravaged by Abbies in the crop fields). Now, it's Nurse Pam, strangled by Jason in something viciously and bluntly Freudian.
Wayward Pines continues to stay creepy and weird (an improvement over the season premiere) even if Season 2 still feels empty of the elements that made Season 1 work so well. And the show knows this, and it's unforgivingly killing off its Season 1 icons in a bloody rebirth. The original Grimm fables were nothing like Disney cartoons, they were littered with mutilated bodies driven by psychosexual undertones. Wayward Pines wants to be perfect and will impose its will as such. It really wants to be a fairy tale.