African Droneports Will Support a 'Highway in the Sky' for Emergency Supplies
Beautiful architecture for the greater good.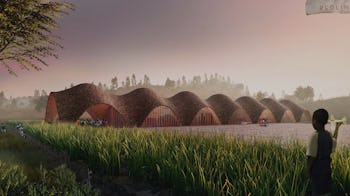 Norman Foster Foundation / Vimeo
Rwanda is about to experience a drone boom. But this isn't a Jeff Bezos-inspired delivery ploy, nor is it the birth of a new sport — and, thankfully, it has nothing to do with war. The small country's enthusiasm for drones is practical and humanitarian: The new drones will operate out of Norman Foster–designed droneports and deliver medical essentials — blood and emergency supplies — while attempting to increase rural communities' access to products.
Foster, the Pritzker Prize-winning architect best known for Tokyo's Millennium Tower and France's Millau Viaduct, worked with a pilot to generate plans for three droneports. These three hubs will reportedly service 44 percent of Rwanda. In Rwanda and much of rural Africa, infrastructural needs have long gone unmet. But, with the advent of drones and the eventual construction of Foster's droneports, that lack may soon become less problematic.
"Delivery of life-saving blood and diagnostics can be up to seven times faster and several times cheaper using cargo drones than by Land Rover," the architect writes.
In addition to improving access to medical supplies and other essentials, Foster's project will be a boon to the local economy. Each droneport's main structure will come somewhat prefabbed, but the majority of the construction will be done by locals, with local materials. "The goal is to maximize the use of local resources in the community," MIT's John Ochsendorf says in the video below. He continues, explaining the construction's particulars:
"The low-tech structure is made of earthen bricks, thin tiles of compressed soil, built using an 800-year-old technique — which can be constructed with minimal support during construction, and has no steel."
And, if the concept art is any indication, these droneports will be sights to behold. All three should be completed by 2020.
The Norman Foster Foundation unveiled a full-scale droneport model at the Venice Biennale. The plans don't stop at Rwanda's borders, though. This is the pilot project. If it goes well, then they'll expand throughout Africa. "The ambition is that every small town in Africa and in other emerging economies will have its own droneport by 2030," the Norman Foster Foundation writes.