4 Reasons Why Microsoft's Radical Xbox One-PC Future Would Be Awesome
Rumors suggest the company will let PC gamers play Xbox One games.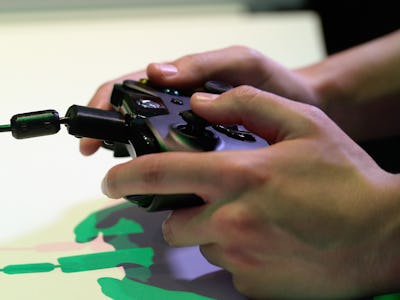 Getty Images
In the future, the lines between game consoles, smartphones and laptops may disappear. On Tuesday, the blogosphere was set alight by The Verge's Tom Warren, who claimed that sources at Microsoft had revealed that the company plans to give Windows 10 PCs the ability to play Xbox One games.
The plan could transform the gaming industry for good. Since the Nintendo Entertainment Systems of the '80s, game consoles have been known as a closed system. You buy the game, and it's locked in with the system, even if the company goes bust and stops making that console. If Microsoft's plan caught on, it would mean gamers no longer restricted to console limitations.
Microsoft has already publicly stated its plans to encourage developers towards a universal app platform, where digital games could run on both PC and Xbox. This sounds more like it would let players pop existing Xbox games into their PC's disc drive, though, with no developer input needed. If so, it would mean never needing to buy an Xbox One at all.
Cheaper
The obvious benefit here is that it would be cheaper. Why buy two machines to play games when you can buy one? All that would be needed to recreate the Xbox One experience would be a game controller and a cushiony chair. Plus, people tend to have PCs already, so it's easier to justify spending money on a turbo-charged gaming PC if it also means being able to file your taxes at turbo-charged speed.
More versatile
Windows 10 runs on a wide range of hardware. Being able to custom-build a PC capable of playing Xbox games would mean being able to use any PC case that took your fancy. That could also mean a number of exotic setups. What about a liquid-cooled console setup without any fans? Or a console setup in the car, specially designed for the unique airflow needs of a PC in the car?
Portable
Loading up a laptop with the top Xbox One games will be the closest realization yet to a portable Xbox. Imagine taking an ultra-thin laptop anywhere on the road, firing up Halo: The Master Chief Collection and immediately playing? In the future, it's easy to imagine a handheld device capable of playing Xbox One games.
How much longer will the Xbox last, really?
It's unlikely Microsoft will stop making the Xbox. People like coming home from a day at work, kicking back with a game of FIFA on a big screen with a comfy couch. On the other hand, Microsoft's commitment to a gaming future where people don't need to buy an Xbox does draw questions about how long Microsoft will continue to pump its best efforts into it. Sure, some people will still want an Xbox, but without the need to buy an Xbox any more, would it really be necessary?