Why Did ABC Remake 'Uncle Buck' For the Third Time? A Preview of the Mike Epps Reboot
Previewing the Mike Epps-starring reboot, which exists for some reason.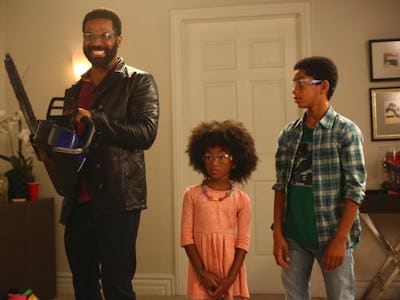 One of John Candy's iconic roles, the reputation of which has only grown since his untimely death in 1994, is that of the ne'er-do-well, sporadically inebriated, petty-crime-affiliated, always-inappropriate Uncle Buck in John Hughes' 1989 comedy of the same name. Buck both wreaks havoc and ultimately improves the inner working of his brother's family when he takes on a babysitter role to his three nieces and nephews.
Candy's film lives on, for several generations of Americans, as a classic blockbuster comedy — one families could agree on for an after-dinner VHS viewing. But its fond reputation probably didn't make the announcement a new ABC sitcom based on the film — a star vehicle for Mike Epps as Buck — seem any less improbable.
On paper, it scans like ABC's bizarre foray into the recent trend of TV shows which take a film as their source material, but it feels very to somewhat harder to imagine the pitch meeting for the show than say, FOX's failed Minority Report or their upcoming, McG-produced Lethal Weapon series with Damon Wayans, Sr.. The market appeal seems relatively slight, a full 27 years on; it's not even the legendary Candy's most beloved role, though it was one of his main top-of-the-marquee productions.
However, the idea to adapt Uncle Buck — #1 at the box office its own weekend, and overall a cash cow of a movie — is not a new one. In fact, CBS has already done it: An Uncle Buck show starring comic and Candy look-alike Kevin Meaney (Big) premiered in 1990. Unlike the new Epps adaptation — which modernizes the types of scenarios seen in the film — the 1990 Buck was a sequel to Candy's film, beginning with the morbid premise that Buck's brother and his wife have been killed in a car accident, and that Buck has been forced to become their guardian. The show did not make it to a full season, tanking even on a Friday night comedy block with the beloved Full House.
Some have percieved ABC's new Buck — which costars Nia Long, James Lesure, Iman Benson, Aalyrah Caldwell, and Sayeed Shahidi — is that it is ABC's way of following up the success of the station's beloved family comedy Black-ish. The primary (read: only) reason to claim this would be because both shows feature black families. ABC president Paul Lee roundly denied this intention last year during the Television Critics Association's press tour, instead citing more of a desire to rope in fans of the Hughes/Candy film. "I may be wrong, but I do think there's a real knowledge out there of what Uncle Buck is, what that character and who John Candy was," Lee told Slashfilm.
Uncle Buck does not look revolutionary in terms of humor and tone — as some have observed of Black-ish — and it seems like no sure thing that the enduring cult for Candy's film will equal good ratings. But it does have the beloved Mike Epps, and unlike, say, current ABC staple Dr. Ken, it looks pretty funny. In the current TV bubble, it's hard to be any kind of sure what will land (Black-ish) and what won't (our beloved Wicked City). If Uncle Buck succeeds, it will be off of sheer comic chops, and playing it safe conceptually with its target audience of slightly older people who still favor watching whatever's on over on-demand and streaming-service-based selectivity.
Uncle Buck premieres Thursday, June 14th on ABC.