New Research Suggests Young People Have More Anxiety
There appears to more anxious youth because there are more youth in general.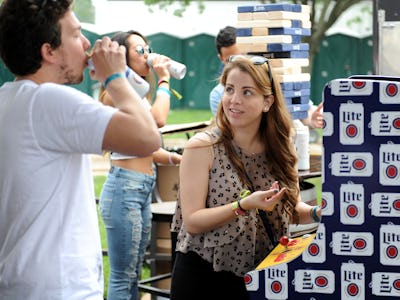 Getty Images / Craig Barritt
We used to think anxiety was as common among older adults as it is among the young, but a new review makes a bold claim: People younger than 35 are most likely to suffer from anxiety.
A review of the scientific literature concerning anxiety, led by the University of Cambridge, was published Sunday in the journal Brain and Behavior. The team of researchers used advanced PRISMA methodology — electronic and manual citation searchers — to identify 1,232 academic papers on anxiety. However, after removing 338 duplicates and screening for only the most rigorous and legitimate research, the team was left with only 48 studies they felt made the cut.
They found that the prevalence of anxiety disorders was high in populations across the globe — especially women, younger age groups, and people from North America, North Africa, and the Middle East. People younger than 35, irrespective of culture, were disproportionately affected by anxiety — save for Pakistan. Pakistan was the only country reviewed in the literature where people in midlife experienced a higher burden of anxiety.
"Anxiety disorders can make life extremely difficult for some people and it is important for our health services to understand how common they are and which groups of people are at greatest risk," says lead author Olivia Remes. "By collecting all these data together, we see that these disorders are common across all groups, but women and young people are disproportionately affected."
Remes and her team note that recent anxiety research is increasingly recognizing that early adulthood is the period with the highest peak in anxiety. The researchers hypothesize that "changing age and population structures" could be driving this shift.
What they likely mean here is that there appears to more anxious youth because there are more youth in general. While youth populations are growing smaller and smaller in the United States, Europe and Asia, they are steadily growing in South Asia and Sub-Saharan Africa. According to the United Nations there are more young people in the world than ever before. As of 2015 there were 1.8 billion people between the ages of 10 and 24. In the 48 least developed countries in the world, children and adolescents make up the majority of the population. It's no wonder these young people are feeling the effects of anxiety.
The research team notes that the first step toward helping this population is increasing the amount of research on anxiety. To reiterate: Out of 1,232 papers the team only found 48 sufficiently rigorous. Marginalized communities, indigenous cultures, sex workers, and street youth have barely been studied for anxiety, and papers reviewing Asian and Australian populations are severely lacking.
"Even with a reasonably large number of studies on anxiety disorder, data about marginalized groups is hard to find, and these people who are likely to be at an even greater risk than the general population," said co-author Carol Brayne in a statement. "We hope that, by identifying these gaps, future research can be directed towards these groups and include greater understanding of how such evidence can help reduce individual and population burdens."