Smart-Video Toothbrush Prophix Recommends Better Techniques
A dentist a day keeps the dentist away.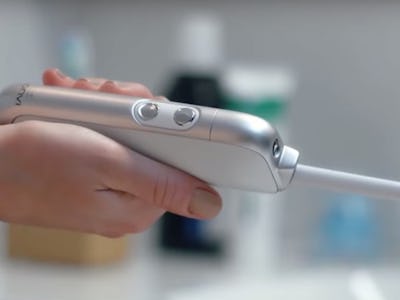 Youtube/I4U News
Leave it to new technology to make everyday tasks, like brushing your teeth, a little more exciting. Prophix, the first-ever smart video toothbrush from dental technology company ONVI, gives you a better idea of what's going on in that mouth of yours – through live-brushing footage.
The Prophix pairs wirelessly with an iOS app through bluetooth or Wifi to show people the insides of their mouths, so they can gain a better understanding of their dental health and make conscious efforts to improve it. All you have to do is start brushing and video footage on your phone or other smart device will show you what's happening in there. See something you want to show your dentist? Prophix allows you to snap photos too. In addition, the technology tracks dental improvement and trends over time, and provides helpful brushing tips to keep your teeth clean and healthy.
Prophix comes with five attachments to enhance your tooth-brushing experience. The standard brush rotates for a deep clean, a mirror helps you to see the harder- to-reach places, a rubber-tip massages your gums and increases blood flow, a Prophy Cup takes care of contour cleaning, and a rubber scaler, sold separately, removes that stubborn plaque from your bottom teeth. Prophix is currently compatible with both versions of each the iPhone 5 and 6, and an Android app is in development.
ONVI founder Dr. Craig S. Kohler, D.D.S., M.B.A., M.A.G.D. has been using live videos to record procedures and provide dental care for his clients for 20 years. His commitment to enhancing his practice through technology led him to create the Prophix.
"As I used intraoral cameras and monitors to treat my patients, I saw how it helped them to better understand the status of their oral health, and in turn, adopt better cleaning habits. With today's advancements in technology, it is finally possible to bring this never-before-seen dental solution into the home with Prophix," Kohler said in to an ONVI press release.
Prophix is available for preorder at a discounted price of $299, with a retail price of $399, and is scheduled to ship in the first quarter of 2017. If you want to better understand your dental health all the time, not just once a year when you go to the dentist, you know the drill.