'Ghostbusters' 2016 Soundtrack Gets First Single with Elle King's "Good Girls" 
The motion picture soundtrack also features -- brace yourself -- Fall Out Boy featuring Missy Elliott covering Ray Parker Jr.'s iconic theme song.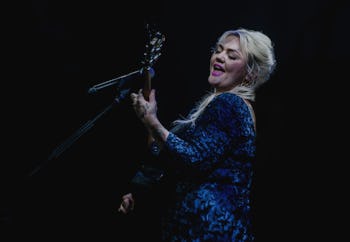 Getty Images / Xaume Olleros
Who you gonna call? Elle King, that's who. A new song called "Good Girls" off the motion picture soundtrack for director Paul Feigs new controversial-only-among-jerks Ghostbusters reboot has dropped ahead of the album's release on July 15, and you can pick up the song itself right now on iTunes.
It's the first we've heard about the new movie's soundtrack, and though this song basically sounds like a new version of her other non-soundtrack hit "Exs and Oh's," it's a welcome addition to the catchy-as-hell earworms that have been included on the popular soundtracks to the previous Ghostbusters movies. In 1984, the soundtrack to director Ivan Reitmans original comedy smash was a massive hit unto itself, garnering an Academy Award nomination for Best Original Song for Ray Parker Jr.'s "Ghostbusters" theme. Huey Lewis wasn't a fan though.
The soundtrack for the new movie is looking to recapture some of that pop success with a star-studded list of modern radio favorites.
Beside's King's track, the 2016 album features other songs by artists like Wolf Alice, G-Eazy featuring Jeremih, 5 Seconds of Summer, Pentatonix, WALK THE MOON, and more. It'll also feature what will undoubtedly be a cringeworthy version of Parker Jr.'s theme remade by Fall Out Boy featuring Missy Elliott.
But before you go and get yourself in another tizzy about Feig's Ghostbusters movie all on account of the new soundtrack's mediocre lineup allegedly besmirching the good name of Ghostbusters soundtracks past, just remember a few things. Ray Parker Jr.'s hit theme wasn't the only song on the original movie's soundtrack.
That soundtrack was packed with such memorable songs by artists like The BusBoys, Air Supply, Laura Branigan, Thompson Twins, and someone named Mick Smiley. Though, to be fair, besides the Ghostbusters theme it also featured two music cues from Elmer Bernstein's amazing score, and lets not overlook the fact that "Savin' the Day" by the Alessi Brothers is a legit good song.
Ghostbusters hits theaters on July 15.