Microsoft Won't Build a Driverless Car, but Your Car Might Get Microsoft Word
Cars are the new offices. 
by Kastalia Medrano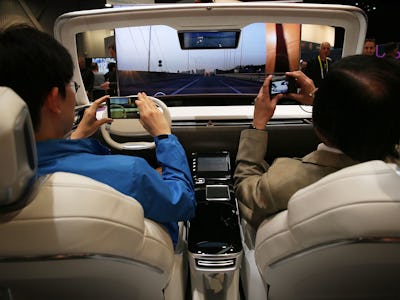 Getty Images
At today's Converge technology conference in Hong Kong, a Microsoft executive said that the company doesn't intend to build its own driverless car — but it will outfit other models with its signature operating system.
Peggy Johnson, Executive Vice President of Microsoft Business Development, declared that while Microsoft won't be building any autonomous or assisted-driving vehicles, the company does intend to "enable" them. According to Johnson, auto developers come to Microsoft with specific ideas about how the latter's operating systems could improve car quality and performance.
It does seem like a natural conclusion of the proliferation of autonomous vehicles and people's increasing desire to maximize their time. Johnson speculated that, given the sheer amount of time people spend in their cars each day, autonomous vehicles might well become an extension of their owners' offices, a space where people get a lot of work done. Which, I mean, that sounds dangerous — you're still supposed to be kind of paying attention — but I suppose she would know better than I.
The good people of Canada recently warned future driverless car owners to not have sex in them, since you're still supposed to be kind of paying attention, but obviously no one's going to listen to that. So I guess making Powerpoint presentations or whatever is the next logical step.
"So using Azure, using Office 365, Windows, we in different ways enabled a variety of partners. And you'll see us continuing to do that. It's about enablement of others," Johnson said. "We can certainly do the operating system for the car."
Converge, a fancy invitation-only conference to discuss tech advances (with a particular focus on Asia) is hosted by The Wall Street Journal and f.ounders. In addition to Johnson, speakers to this year's two-day event include executives from B Capital Group, Hanson Robotics, WeWork, Nasdaq, Uber China, and others. Johnson was the only scheduled speaker from Microsoft.