The NBA Just Debuted This Chatbot for the Finals and It Loves Highlights
Get highlights of LeBron James and Stephen Curry.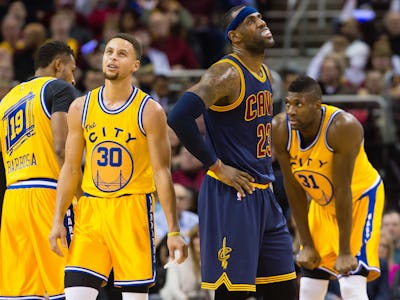 Jason Miller/Getty Images
As a sports fan without cable, mornings and evening can often be spent scouring the internet for highlights and game recaps through less than stellar apps. Facebook is betting its Messenger Chatbot service can deliver a better experience, and the official Facebook account of the NBA is testing that theory this week at the start of the finals between the Cleveland Cavaliers and Golden State Warriors.
David Marcus, vice president of messaging products at Facebook, announced the new chatbot in a post today, saying it was made "just in time for the Finals."
The Chatbot is incredibly simple and for the time being doesn't seem capable of conversing with users. ("How is LeBron doing?" won't get you much of a response.) It only asks users to type in a preferred team name and then presents you with three options: "Top Plays," "Last Game," and "Playoffs."
"Top Plays" services a single play highlight from the previous game and "Last Game" delivers the full game highlights. Choosing "Playoffs" will give you highlights from your favorite team's run to the NBA finals.
You can do the same thing for individual players such as LeBron James and Stephen Curry, and then the bot will ask if you want to enable updates for those players and/or team after each game.
Other sports chat bots such as TheScore told Inverse they imagine bots will one day be the mediators of group discussions on sports, feeding participants different stats and highlights.
Neither TheScore or the NBA's chatbots are capable of that yet, but if you're looking for a quick and easy way to follow the playoffs this week, chatbots are now an option.
Try it on the NBA's Facebook Page.
The NBA's long been the leader when it comes to putting its highlights on the open web. Just look to its YouTube account as evidence.