How Voltron' is Defending Diversity
Actress Kimberly Brooks says she "welled up" when she saw Allura's new look in the Netflix reboot 'Voltron Legendary Defender.'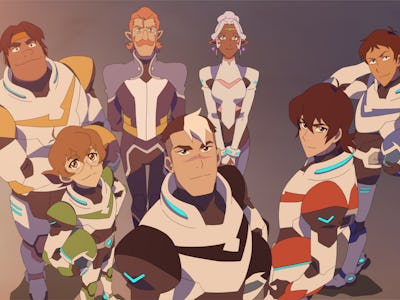 Netflix
Now more than ever, diverse characters deserve a place in sci-fi and genre fantasy. The hubbub over Ghostbusters and other nonsense proves fandom has a long way to go, even in galaxies far, far away. In 1984 cult anime Voltron: Defender of the Universe featured Princess Allura among its heroes. But, in the upcoming reboot from DreamWorks arriving on Netflix June 10th, Voltron Legendary Defender has the Princess of Arus in a role outside her Blue Lion's seat.
Is Voltron cozying up with online forums who are allergic to representation? Not at all. In fact, it's exactly the opposite.
"We've not closed any doors for Allura," explains co-executive producer Lauren Montgomery, whose previous credits include Nickelodeon's The Legend of Korra.
Montgomery also schooled Inverse on Voltron lore: "I don't know how well you recall the original series, but Allura didn't become a pilot until a few episodes in."
While admitting the show isn't going to "follow directly" in the footsteps of the '84 series, Montgomery says Allura will matter more than ever, and that there's more to the galaxy than forming a leg. "We haven't diminished Allura in any way. Whether she's in a Lion or not, she is a huge part. She shoulders more of the burden of this intergalactic war than any of our characters do."
In Voltron Legendary Defender, Princess Allura enters hyper-sleep for 10,000 years after her kingdom falls to the evil Zarkon. Reawakened, Allura mentors the Voltron pilots to save the universe. But her position isn't the only change that's drummed up interest: it's her skin's hue. Though an alien, Allura's distinctly dark skin — a change from her blonde hair, fair skin in previous iterations — has been praised for progressiveness. "How cool is that?!" wrote The Love Life of an Asian Guy, a popular Facebook page addressing diversity in media. "That, my friends, is a great example of diverse casting and writing."
"I had no idea what Allura was going to look like when we started recording, so when I saw her for the first time [during] ADR [audio digital replacement], I was blown away," says actress Kimberly Brooks, who plays Allura, in a phone interview with Inverse. "I know this is an alien character, but I welled up with tears when I saw [her]. She's beautiful, strong, she represents the broader picture. I feel proud to be a part of it, I'm happy to represent."
To Brooks, a veteran voice actress of color with credits in Mass Effect, BioShock Infinite, Batman: Arkham Knight, and the cult video-game series No More Heroes, portrayals like Allura matter, even if they don't seem like a big deal.
"You don't see many people of color in lead roles commanding ships," she tells Inverse. "It will be a nice change because you got a woman in charge. I love that. You never know where anyone's going to end up. She's a strong leader and the pilots respect her. Allura has a connection with the Lions nobody else has. Having her in charge really is the only way we can accomplish our mission which is to defend the universe."
When I asked Brooks if Allura would pilot a Lion anyway, because I just really wanted to know, she played coy. "What's exciting about the show is we don't know what's going to happen. There's a lot of surprises in store. If people watch the show closely they're going to be very happy."
Voltron Legendary Defender premieres on Netflix on June 10th.