Tinder Will Be More Inclusive of Transgender and Gender Nonconforming Users
"This is not only the right thing to do for our users, it's the right thing to do, period."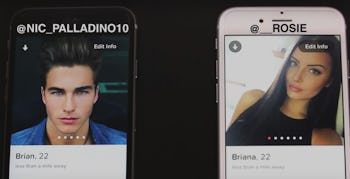 Youtube/whatever
Tinder is a great place for cisgender folk to find hook-ups and dates, but the popular mobile dating app hasn't done its part to involve transgender and gender-nonconforming individuals. And that's not a controversial opinion. Tinder CEO Sean Rad voiced it himself last week when he revealed his intentions to make Tinder more inclusive: by focusing on the creation of new functionalities designed to help transgender and gender-nonconforming daters.
The transgender community's fight for visibility gained traction when Caitlyn Jenner came out last year, but there is still much to be discussed – in particular, people in the trans community who lack Jenner's privilege as a wealthy white woman. Gender-nonconforming people — those who reject the male-female binary and identify with neither, both, or a combination of male and female – are arguably talked about less (albeit also less insultingly) than transgendered individuals. Tinder may not be able to change that, but the company still intends improve its treatment of this clientele.
During his discussion at Recode's Code Conference, Rad mentioned that Tinder is working with LGBTQ organizations like GLAAD (Gay and Lesbian Alliance Against Defamation) to address this particular goal of including everyone, regardless of gender.
"No matter who you are, no matter what you're looking for, you should get quality matches through the Tinder experience. Theres an important transgender (and gender-nonconforming) community on Tinder who haven't had that experience… yet. We haven't delivered for them, so we're working with LGBTQ advisors, including transgender activist Andrea James and GLAAD to help us address this important demographic. This is not only the right thing to do for our users, it's the right thing to do, period."
In other news about rejecting the gender binary, Maxis is releasing a Sims 4 update that will totally ignore gender roles in character creation. Players can choose whatever voice, clothes, and physique they want for their Sims – and will be able to change the gender of their characters.
As discussions about gender become more prevalent in public discourse, it only makes sense that popular cultural phenomenons—like video games and dating apps – should reflect that change. Way to go Sims and Tinder for doing your part to make the world a less scary place.