Facebook Messenger Emojis Just Became Cool
The emotions better match Reactions and Stickers on the platform.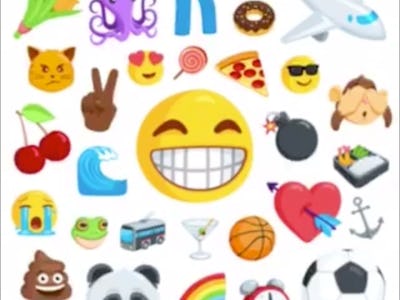 Facebook / David Marcus 
Facebook wants to keep its 900 million Facebook Messenger users by upping its emojis game. Today, a company executive announced a roll-out of new emojis that are livelier and better match the style of its stickers.
"Emojis are such an important part of making messaging more expressive, so we wanted to make them even better for you, and ensure consistency across all platforms (iOS, Android, web)," David Marcus, vice president of messaging products at Facebook, announced on Wednesday.
Users may not have noticed before, but a second look at the former emojis reveal how bland and pastel colored they were. Colors are now far more vibrant and the characters more diverse.
This update follows a number of other companies and brands updating their emoji sets, including Apple's welcomed emojis that offer more diversity, Google's more human-like emojis for Android, Kim Kardashian's own take on the hieroglyphic format coming soon, and Facebook's new Reactions.
Marcus wrote that the update is rolling out across all devices during the next 48 hours and will be compatible to and from any device, whether that's a PC, iPhone, or Android.
Facebook already owns the fully encrypted popular messaging app WhatsApp, and there are reports that the company may debut end-to-end encryption for Messenger later this year.