Facebook Patents Technology to Turn You into an Emoji, Sort Of
According to Facebook, there's no better way to express yourself than with customized emojis of your beautiful visage.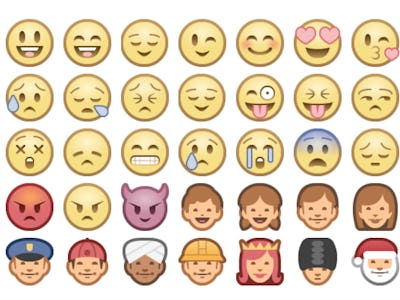 Emojipedia
These days, it's difficult to end a conversation without some form of visual expression. Communication through chat, social media, and text messaging has changed so drastically, that emojis have even become common in business settings. In some cases, not using one during a conversation might be misconstrued as a negative sign. We've even given the emoji its own movie, so as far as humanity is concerned, we've caved into their power and now: those little pictures are here to stay.
Now, Facebook wants to take that form of expression to the next level. After getting a new patent approved, Facebook wants to help users customize emojis of themselves to share during on-site conversation. The customization would replace the standard Facebook expressions for certain key combinations, showing a photo of the user smiling, in place of a generic ":-)", for example.
This idea sounds like something your grandmother will love, but your friends might find pretty annoying. In place of an anonymous expression, this patent suggests that a photo of the user (from their album) could be used in place of a standard emoji. The technology would match the expression, and then send it along with the conversational text.
Facebook's latest venture broadened the scope of potential reactions for posts — like the new "sad" response — but recent reports say that the function is being drastically underused. If users wish to, they can already add emoji stickers onto their Facebook photos and share them with friends via messenger. Facebook's game has always been personalization and connecting people in honest ways, but some functions will always perform better than others.