The 'Monster Trucks' Trailer is Finally Here and It's Bananas, Stars Danny Glover
The very literal film is headed for an early 2017 release.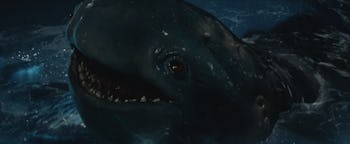 Youtube
It turns out that Monster Trucks takes itself very literally. As in, the film follows creatures who are literal gas-guzzling monsters, and they live in/are(?) trucks.
The film was completed back in 2014 and repeatedly delayed, so we're all forgiven for forgetting it existed. But the trailer's finally out and it's actually pretty memorable.
The film stars Lucas Till (X-Men: First Class) as Tripp, a teen who befriends aforementioned literal monster that takes up residence in his truck. "It is an engine for my truck," he explains to his girlfriend (Jane Levy). Amazing. Together they set off on an engine-revving adventure to save 'Creech' and his tentacled family from bad guys. The monster has a bit of a Toothless vibe with his toothy grin and blobby congeniality.
The film looks significantly more bonkers and more heartfelt than expected. It's weird enough that it may just be fun, although the dialogue is bad even for a movie called Monster Trucks. The film also features Amy Ryan (The Office), Rob Lowe (West Wing), and Danny Glover, who appears briefly in the trailer as a helpful mechanic. Check it out.
"Did that just happen?" "Oh yeah it did."
The perennially delayed film will be out January 13, 2017.