The Complete Guide to Hillary Clinton and Pop Music, from Billy Joel to Beyoncé
Don't let this change your vote, but these are the hard facts about Hillary and her questionable music taste.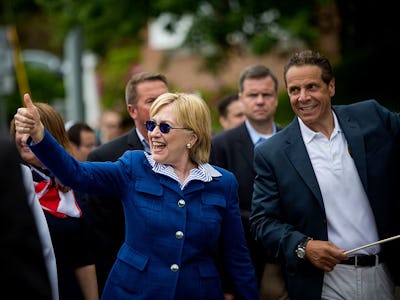 Eric Thayer/Getty Images
We are, undoubtedly, looking at a Donald Trump vs. Hilary Clinton race in the 2016 election. So it's time to uncover the dirty truth about both of these individuals, to be completely sure of the moral way to cast your vote.
John Kerry was famously called a "flip-flopper" throughout his 2004 presidential race against George W. Bush. When it comes to Clinton, the same must be said, in good conscience, about her music taste.
Sick of the Democratic candidate's constant, seemingly thirsty Beyoncé references? Let's take a look at exactly how Hillary got from The Eagles CDs to "Run the World (Girls)." Here's a timeline of Hillary Clinton's fraught love for pop music.
January 1992: Hillary Clinton pisses off country music fans
In a 60 Minutes appearance, Hillary implicitly criticized the view of marital commitment espoused by country legend Tammy Wynette's 1969 super hit "Stand By Your Man," when Clinton discussed her own relationship with her husband. This came during the election for Bill Clinton's first term, after allegations of a over-a-decade-long affair with Gennifer Flowers became public knowledge. Here's Hillary:
"You know, I'm not sitting here – some little woman standing by my man like Tammy Wynette. I'm sitting here because I love him, and I respect him, and I honor what he's been through and what we've been through together."
The comment drew criticism from Tammy Wynette herself, among many others, and Clinton later apologized.
February 2000: Clinton plays song with "masturbate" in it at event announcing her NY Senate candidacy
That's right — its Billy Joel's 1973 crap-them "Captain Jack," which Clinton said was played "by mistake" after NYC mayor Rudy Giuliani took her to task for it. In one of the low points of Joel's career, the song features the couplet: "Your sister's gone out, she's on a date/ You just sit at home and masturbate," pronounced "mah-stah-bate," like a Mad TV parody of an upper-crust British person. Its chorus, also, is dominated by the line "Captain Jack will get you high tonight.
May 2006: Senator Clinton boldly comes out in favor of Eagles and "Beautiful Day"
In a daring New York Post exposé, Clinton clarified that she used an iPod, and "one of these devices that you can plug it in and have it played it over speakers, so you don't always have to have it in your ear, which bothers me." That probably means an iPod dock and not just a stereo. The four confirmed songs on her "playlist" (did she only have one?) were "Respect" by Aretha Franklin. Clintons's campaign songs were "Beautiful Day" by U2, "Take It to the Limit" by The Eagles, and the Beatles' worst #1.
February 2009: Expresses predictable and understandable love for The Beatles and The Rolling Stones
In an Indonesian interview, Clinton reveals, offhandedly, that she loves two bands everyone loves.
November 2011: Clinton continues to be "child of the '60s" when it comes to music
In a 2011 appearance in the Philippines (!), then-Secretary of State Clinton was asked to give up some secrets about her music taste. In addition to "relaxing" classical music, Clinton specifies that she mostly listened to the music she liked growing up: "The Beatles and the Rolling Stones, the Who and the Doors…I mean, all of that."
Does "all of that" include Iron Butterfly? Does Hillary Clinton like "Back Door Man"? Is she cool with Some Girls, or did she think that was the beginning of the end for The Stones? I would have had some followup questions.
June 2015: Weird Spotify playlist #1
Clinton loosed a Latin-pop-studded playlist which she uses at campaign events, and we're meant to believe, listens to in her private time, as well. It was hard not to view the playlist as suspect, given that most of the songs (not The Gap Band and Michael Bolton) were made in or just around the 21st century.
July 2015: Bill and Hillary spotted vacillating arhythmically at U2 concert
The main one of these I can't help but truly believe in Wilson Phillips; also, "Man! I Feel Like A Woman" came out while Bill was in office, and I can see this being on in the White House gym. The idea of Hilary listening to a note of "That's Not My Name" seems completely untenable. Yet, it's also probably the least "hip" of the 21st-century songs on there, conjuring the somewhat frightening notion that that one might be real.
December 2015: Women in Music tribute happens, conjuring the question of whether Clinton listens to Selena Gomez
Clinton's letter of tribute for Billboard's Women in Music awards was pretty by-the-book, full of rhetoric and little in the way of heartfelt detail. When she did offer up some specific names, it was in a overstuffed list, of which it's hard not to assume Clinton has only sampled around half:
"My hope is that women and girls around the world will hear these artists' songs, learn their stories and feel a greater sense of ­possibility for their own lives… Maybe they'll stand a little straighter or speak a little louder because that's what Gaga and Missy and Brittany and Tori and Selena and Demi and Kelsea and Lana and Ally and Normani and Lauren and Camilla and Dinah and Loretta would do."
Can kind of imagine Hill getting down to Ultraviolence on a moody evening but it seems only a remote possibility. Meanwhile, del Rey is unsure whether she should go Trump or Clinton.
December 2015: Beyoncé love
In a town hall meeting in Iowa, an audience member asked Hil if she'd rather be president or Beyoncé. The candidate took a few moments to praise the singer and her supporter:
"You see her on TV, it's impressive; you see her in person, you're just stunned. Thinking like, how does she do that? Really. I mean, she singing, she's up and she's down. She's just amazing…I want to be as good a president as Beyoncé is a performer."
January 2016: The infamous dabbing incident on Ellen
Yes, "Trap Queen" was playing in the background as Clinton did the move popularized by black youth in dance videos and later by Atlanta hip-hop group Migos. Yes, it was almost just straight-up evil.
March 2016: "Crashes" Beyoncé music video shoot in L.A.
Who knows what that means? But a good PR stunt for both of them, presumably, just like the Broad City turn.
April 2016: More Demi Lovato shit
Hillary really tries to make us believe that she's into Demi Lovato on The View. Look, I love Katy Perry–nearly everything…I love Demi Lovato–nearly everything," she told Paula Faris. "I think she's an amazing talent. There's also an Adele mention. It's probably worth noting that both Lovato and Perry played concerts on Clinton's behalf.
April 2016: Hillary says she carries around hot sauce in Breakfast Club interview
Clinton went on one of the most popular hip-hop radio morning shows in the country, Power 105.1's The Breakfast Club in NYC this April. After saying she practiced Beyoncé dance moves in private, she mentioned that she carries hot sauce with her on the campaign trail. "Are you getting in formation right now? Hot sauce in my bag, swag!" co-host Charlamagne said, making the connection to the lyric in Beyoncé's recent single "Formation."
May 2016: Makes offhand reference to Beyoncé's LEMONADE to score cool points
In a Scandal-reference-dropping appearance on Ellen, Hilary Clinton mentioned that she "really believe[s] in making lemonade out of lemons in another conversation about Beyoncé. The interesting connotation, of course, is the way in which the iconic phrase from the singer's new album/movie LEMONADE could be applied to Hillary's own life experience.
NOTE: Despite all this, please vote for Hillary Clinton and not Donald Trump.