The Zenbo Home Robot Makes Its Unblinking Debut in This Odd 11-Minute Video
It's a personal assistant and pet.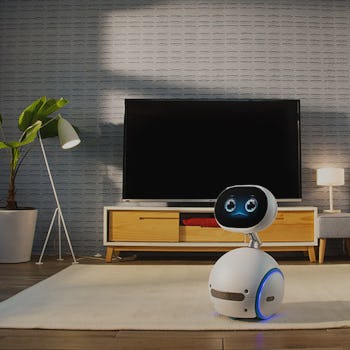 ASUS
Zenbo is a home robot that offers the awkward awareness of an artificial intelligence assistant like Siri with all the mobility of a roomba. The robot's tablet-for-head doubles as an ever-watching sentinel, guarding grandpa from bad falls and ensuring the kids are always entertained. At $599, Zenbo is less expensive than some top-of-the-line smartphones, but the full 11-minute, Wes Anderson-inspired promotional video certainly doesn't inspire confidence that the robot will help any but the most dysfunctional families.
Billed by maker ASUS as uniquely multifunctional, Zenbo seems like it may struggle to find anything to do in a household already run on smartphones or an Amazon Echo's Alexa. Zenbo could aid a busy parent as he runs about his daily chores, reading recipes, adjusting lights, and issuing reminders to all members of the family.
The robot's promotional video, though, makes you wonder more what new awkward situations Zenbo would bring to a family, rather than any conveniences. An autonomous camera on wheels, watching and listening to everything in the house, Zenbo could be a nightmare for privacy, albeit a cute one.
Zenbo's main advantage may be as a publicity stunt for ASUS, a Taiwanese electronics company. Since we are all still obsessed with humanoid robots, it's becoming almost required for major tech companies to produce something like Zenbo to keep their fans happy.
In Zenbo's case, the robot was even granted an audience with the recently elected President of Taiwan, Tsai Ing-wen, at its debut at the Computex convention in Taiwan today (which is twelve hours ahead of New York). Tsai and the robot had a little trouble hearing one another, but in the end Zenbo did manage to play some "crazy" music for the president.
Of course, the popularity of the Amazon Echo would suggest that people are finding uses for home assistants. It might be easier to purchase a couple $89 Amazon Dots and place them around your house than to get a single Zenbo that can't go up the stairs. But who knows? Maybe Zenbo becomes like a part of the family, like a robotic dog. Or, or course, you could just get yourselves a robotic dog.