'Wynonna Earp' Gets #WayHaught And Buries A Witch Problem
In Episode 9, Wynonna employs some tried-and-true coping mechanisms while Waverly works out what she really wants.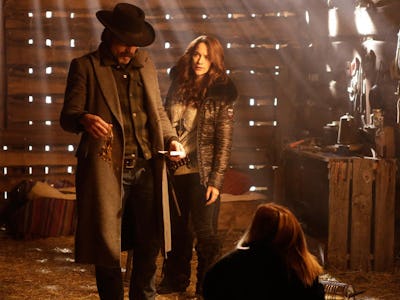 Syfy
In Episode 8, we saw Wynonna narrowly escape the clutches of a serial killer RevHead, who may or may not be Jack the Ripper. Faced with the business end of Peacemaker, though, Jack left Wynonna with some haunting final words: "You're just like me — broken." This week, after killing the last of the Seven, Wynonna does battle with her own conscience and helps Doc with his witch problem in Episode 9, "Bury Me With My Guns On."
Trying (and failing) to slay some personal demons with the likes of Patrón instead of Peacemaker, Wynonna (Melanie Scrofano) finds herself at Shorty's, still thoroughly shaken by her close encounter of the demon-serial killer kind. Fortunately, Doc (Tim Rozon) is there to lend some sage advice like a wise, mustachioed (boiled) owl.
It's damn effective advice, too — Wynonna heads into work the next morning full of Revenant-killing resolve. Too bad it's not meant to last, thanks to a surprise psych eval, courtesy of a woman hell-bent on reopening old wounds and dredging up long-buried skeletons. Dolls (Shamier Anderson) is of little help and suspends Wynonna after she fails the evaluation.
Speaking of digging up bones, Clootie's (Rayisa Kondracki) hard at work piecing together and resurrecting one of her sons from a couple of mostly complete skeletons. Though things don't come together exactly as planned, she succeeds and charts a course to get the hell out of Ghost River County, only to be thwarted by Bobo Del Rey (Michael Eklund).
Meanwhile, Officer Haught's (Katherine Barrell) searching for the truth about what the hell kind of weird stuff is going down in Purgatory, Waverly is (Dominique Provost- Chalkley) looking for some insight about what the hell is going on between them, and neither gets the answers they're looking for. That said, Waverly manages to utter "lesbian" and "unicorn" in the same sentence, which has to be worth something.
Back at the homestead, pillow talk takes a witch-y turn when Doc tunes into Clootie's pain as Bobo uses a flamethrower to torch her sons. Taking some time off from sending Revenants back to hell, Wynonna jumps aboard the Retribution Express with Doc to take out the witch with some gallows silk and salt flats.
After some more crossed wires and confusion between Haught and Waverly, Gus (Natascha Girgis) reveals that she sold Shorty's for a hefty payout, some of which she gives to Waverly, setting her free to do whatever she wants. It doesn't take her too terribly long to figure it out, which is why she ends up at the station to make a move on Officer Haught, telling her that on the long list of things that she wants to do that scare her, Haught is at the top. As one might expect, the internet bowed under the weight of an influx of #WayHaught gifs.
It's not all rainbows, unicorns, and sunshine in Purgatory, though — turns out that the brand new owner of Shorty's (and the sacred land on which it stands) is one Bobo Del Rey, which is sure to complicate things as Wynonna & co. keep working to take down the Revenants and put down the Earp Curse for good.
Like nearly every episode this season, "Bury Me With My Guns On" saw Wynonna Earp level up. The performances, tone and plot started strong but have only grown in strength since the pilot. The show is striking this beautiful balance of action, sincerity and levity, managing to create meaning without being heavy-handed or exhaustingly self-important.
The glue that holds the show together, Melanie Scrofano is an absolute force as Wynonna. She brings incredible life, humor and complexity to the character and constantly proves that Wynonna belongs in the ranks of the best heroes on television.
It's not exceedingly common to find a show that manages to elevate itself week after week, but Wynonna Earp is doing it. Best stock up on donuts, because it's sure as hellfire not done yet.
Wynonna Earp airs on Fridays at 10 p.m. EST on Syfy.