McDonald's CEO Says Robot Workers Will Bring Employees Better Jobs, Not Replace Them
He credits customer service (from humans) with contributing to the company's turnaround.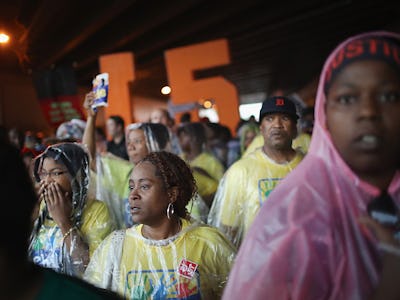 As fast food workers organize across the country to advocate for a $15-an-hour wage, critics have warned that the raise could have the unintended consequence of making human workers too expensive. The Fight for $15, they say, is shooting fast-food workers in the foot by encouraging restaurateurs to invest in automating food-service jobs.
But on Thursday, McDonald's CEO Steve Easterbrook told shareholders at the company's annual meeting that a higher wage wouldn't mean that workers would be replaced. "I don't see it being a risk to job elimination," he said, according to Reuters. "Ultimately we're in the service business. We will always have an important human element." He credited customer service (from humans) with contributing to the company's turnaround, saying that increased wages for employees would probably result in more service-oriented tasks instead of no work at all, as many have forecasted.
On Tuesday, former McDonald's CEO Ed Rensi, a Trump supporter, went on FOX Business to predict a robot takeover if the Fight for $15 prevails. "I was at the National Restaurant Show yesterday and if you look at the robotic devices that are coming into the restaurant industry — it's cheaper to buy a $35,000 robotic arm than it is to hire an employee who's inefficient making $15 an hour bagging French fries — it's nonsense and it's very destructive and it's inflationary and it's going to cause a job loss across this country like you're not going to believe," he said.
Other fast food executives, like the CEO of Hardee's and Carl's Jr., Andy Puzder, have echoed the former McDonald's executive's warnings, calling for more labor automation as wages increase. Even companies run by non-political CEOs are bending toward automation — an industry trend that might just be inevitable thanks to customer preferences.
Easterbrook's defense of human employees — delivered while Fight for $15 protestors picketed McDonald's headquarters in Oak Brook, Illinois — should do something to soothe employees' nerves, though the majority of them are employed by franchisees instead of the company itself. Last year, McDonald's, like many other quick service restaurants, began rolling out self-service kiosks in a bid to improve efficiency and reduce error. McDonald's doesn't plan to kick its employees to the curb with the kiosks, he said. And while Rensi may hold the mic in the public debate over minimum wage and labor automation, it's Easterbrook who holds the cards.