Apple Encryption Law Derailed as Facebook, Google Increase Messaging Security
Senators Richard Burr and Dianne Feinstein's bill receive little support.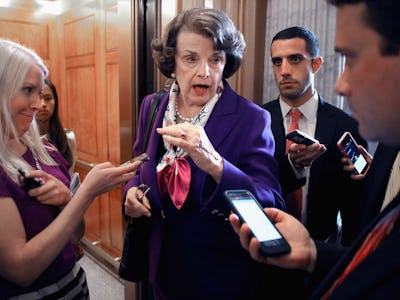 Chip Somodevilla/Getty Images
Congressional support for a bill allowing a governmental "back door" to encrypted messaging services such as Apple's iMessage and Facebook's WhatsApp is dead in the water, Reuters reports.
Public support previously backed congressional efforts for such a law following the ISIS-inspired attacks in San Bernardino that left 14 dead and an encrypted iPhone the Justice Department wanted to access. However, in the wake of those attacks, and a very public debate about the issue, not only has the public's support waned, but so too has backing in Congress.
Senators Richard Burr and Dianne Feinstein, Republican and Democratic leaders on the Intelligence Committee, circulated a bill weeks ago, but reports claim the bill will not be introduced on the floor this year, and if it were, it would receive little to no support.
A key reason for the waning enthusiasm for the bill is the Obama administration's lack of support since the initial push from the Justice Department, which for years has been looking for a way to better target suspected terrorists and criminals even while behind the security of encrypted messages.
Legislation may have been sparked by Apple's encryption, but since then a few companies have come out with new end-to-end encryption messaging platforms. Facebook made its messaging service WhatsApp fully encrypted for its almost-one-billion users in April. A group of former Skype technologists launched the encrypted text and video messaging service Wire. And Google announced a new messaging app during Google I/O last week called Allo, which will offer end-to-end encryption.
Users are increasingly concerned about their security and privacy online, and it seems companies are willing to give it to them even if it means legal troubles down the road. The FBI was eventually able to crack into the San Bernardino iPhone, but, for the foreseeable future, it looks like Apple has won its encryption debate.