The 5 Best Songs On Fifth Harmony's '7/27'
The girls quiet down a bit for their sophomore release, but the group is still best when it's flexing loud and fierce.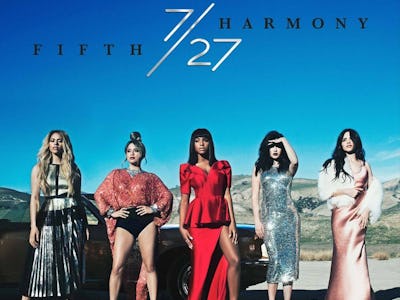 Genius.com
Fifth Harmony earned some fierce confidence on its debut album Reflection, a collection of brash pop bangers featuring a mix of electronic and R&B production. Ally Brooke, Normani Kordei, Lauren Jauregui, Camila Cabello, and Dinah Jane rarely compromised the self-assuredness on their debut, which was as an unmissable entry into the pop realm. But the sheer amount of resolute girl power also came off as slightly unrealistic – and the fact that the X-Factor-assembled Fifth Harmony fed the transparent gimmick that was driving their work.
On Fifth Harmony's second LP, 7/27, the girls head in a more contained and grounded direction, keeping the #nofilter boldness while breaching a more vulnerable territory. With production from major beatmakers like Kygo and Stargate, songwriting help from Tinashe, and strategically recruited features from Fetty Wap and Missy Elliott, 7/27 is a more mature release for Fifth Harmony, both sonically and emotionally. The album should be longer and the girls still shine brightest in the louder and prouder moments – but it helps strip them of certain contrivances, and earns the group enough credit to be regarded as a legitimate force of pop. Here are the five best songs on the album:
"That's My Girl"
Based on the anthemic opener of 7/27, you may think that Fifth Harmony is headed in the same direction as its debut. "That's My Girl" hits all of Fifth Harmony's trademarks: popcorn-style riffing, a brassy horn section (very similar to the one featured in their chart-topping hit "Worth It"), and most of all, a firm salute to the strong women of the world. By kicking off the album with a polished fierceness that its fan base will readily devour, Fifth Harmony eases us into its new approach. Wherever the ladies take us on 7/27, audacity will surely guide the way.
"Work From Home" (feat. Ty Dolla $ign)
This was the first single Fifth Harmony released for 7/27's rollout, and it may be the best song on the album. Last week, "Work From Home" scored an entirely deserved No. 1 spot on Billboard's Pop Songs radio, beating out their other biggest hit "Worth It", which just missed the Top 10 last year. Whereas Reflection was confident in a strut-your-stuff manner, "Work From Home" signifies the emphasis on sexuality on 7/27. The song is filled with kitschy sexual innuendos about "working" from home, but not too many. Ty Dolla $ign's crooning verse kicks the heat up a notch, and Cabello's soaring riff that leads into the last chorus will never cease to amaze. Working from home has never sounded so sexy.
"All In My Head (Flex)" (feat. Fetty Wap)
Releasing an album at the end of May means there should probably be some summer preparation, and the laid-back, titillating fun of the Fetty Wap-featuring "All In My Head (Flex)" is the perfect introduction to the hotter months. Like in "Work From Home," the girls showcase a similar brand of liberated sexuality that adds to the album's more grown-up and established vibe. The song features a bouncy, bass-driven beat remarkably similar to Fetty Wap's "679," which gives his distinguishably strained vocals an appropriate place in this song. If this isn't playing at every pool party you go to over the summer, highjack that aux cord.
"Squeeze"
This track marks the first moment of true vulnerability on 7/27," an emotion achieved through Stargate's and Kygo's intimate production. While talking about 7/27 before its release, Jane said, "We finally have a damn voice," and this tender moment is maybe the best indication. The song features a rhythmic and serene drop similar to that of "I Took a Pill In Ibiza" and other gentle electronic tracks which have recently found spots on music charts. The song describes the magical feeling of being embraced by the person you love, and "Squeeze" accomplishes just that: it's like a warm hug.
"Not That Kinda Girl" (feat. Missy Elliott)
While some of the quieter moments on 7/27 take the unabashed confidence of Reflection down a few notches, Fifth Harmony is still best when chins are up and the members are shooing away leering dudes at the club. "Not That Kinda Girl" finishes out the standard edition of the album the same way it begins; on an "I don't need a man" note, a kiss-off they group it's mastered at this point. The girls boost their cred on this song with a featured verse from the recently elusive Missy Elliott, and song's twitchy, electric beat is a clear nod to Prince's "1999." Even if the girls showcased a softer side in songs like "Write On Me," and the back-to-back "Squeeze," "Gonna Get Better," and "Scared Of Happy," "Not That Kinda Girl," is their way of saying, "don't get any ideas."