On Fifth Harmony's New Album '5H2,' the Girls Are Going for Maturity
They've got a bunch of big names attached. What else?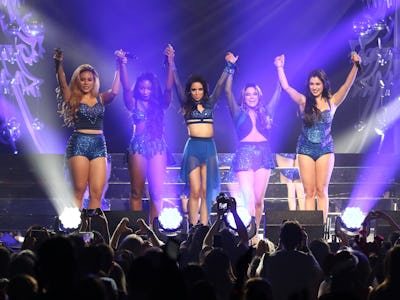 Getty Images
Fifth Harmony, the five-girl American pop group born out of The X Factor in 2012, started out last year with a self-assured ruckus. At the beginning of 2015, Dinah Jane Hansen, Lauren Jauregui, Ally Brooke Hernandez, Normani Kordei, and Camila Cabello released their debut album Reflection, a collection of bouncy pop songs that, above all else, championed unabashed self-love and girl power. Reflection set the stage for consequent self-love campaigns by other female artists in 2015, including Selena Gomez's Revival and Hailee Steinfeld's not-so-subtle masturbation anthem "Love Myself,", and served as proof that the girl group construction was still an effective option for pop music. Now that it's been nearly a year since Fifth Harmony released their debut, we're wondering what their follow-up will be like. Here's what we know so far.
We don't have any official singles from the upcoming release yet, but we do know some details about the songwriting and production of 5H2. Hansen recently told Spin that the group got back in the studio in October of last year to begin recording with some of the biggest names in the pop industry such as Max Martin, Stargate, Victoria Monet, Tommy Brown, Mitch Allan, and Jason Evigan. When Spin interviewed Jaruegui a few months later, she offered up some more updates on 5H2, namely that Dr. Luke and Tinashe are also involved in the upcoming release. Although she prefers not to give an exact release date so as not to upset a dedicated fanbase in case they need to delay it, Jauregui confirmed that the new album will be out sometime in early 2016. Harmonizers, rejoice!
As far as the kinds of songs that are being penned for the new album, Jauregui clued us into the kind of songwriting they're after. According to her, the album will be "less gimmicky" and more directly inspired by R&B, which she says Tinashe has helped them realize. Tinashe's particular brand of soulful yet chilly R&B can help the girls of Fifth Harmony accomplish an R&B inspired sound. On top of that, Tinashe is a female musician about the same age as the girls in Fifth Harmony, so she draws inspiration from a similar experience. "That's what's important at the end of the day: having an authentic sound and having someone who understands what we're going through," Jauregui told Spin.
The most telling update thus far has to do with the kind of sentiment that will be featured on 5H2. Kordei told InStyle, "Our last album didn't really showcase our vulnerable side. But it's okay to cry and get caught up in your emotions — that's what's realistic." It's safe to say that the amount of self-love on Reflection is staggering to a point of being slightly unrealistic. Whether the five singers are complimenting their own reflections in the plot twist-heavy "Reflection," touting their similarities to Michelle Obama in "BO$$," or flaunting their self-worth in "Worth It," Reflection's concern with self-love is unflinching. By suggesting that the upcoming release is more realistic, Kordei effectively admits that the unbridled confidence of Reflection is not always accessible as a woman. Sure, moments of feeling infallible and sturdy are invigorating and even necessary from time to time, but embracing your insecurities and moments of weakness can also be empowering. Basically, feeling whatever you feel — whether it's good or bad — to the utmost extent is what Fifth Harmony seems to be going for.
Based on what we know so far about 5H2, Fifth Harmony's follow-up to Reflection is going to be a more mature release in every sense of the word. The members of Fifth Harmony are way more involved in the songwriting process this time, and the help they've recruited shows they are being careful and genuine. Aside from the huge names in pop on the upcoming 5H2 that will undoubtedly create some major club bangers, Fifth Harmony's efforts to curb some of Reflection's steadfastly confident spirit with vulnerable moments on the upcoming record point to a promising second album.