New 'Alien: Covenant' Photo Reveals Katherine Waterston's Xenomorph-Fighting Heroine
Daniels is giving off some serious Ripley vibes.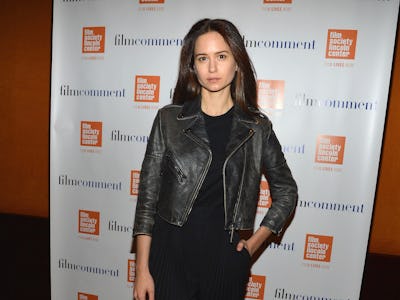 Slaven Vlasic / Getty
It looks like filmmaker Ridley Scott is trying to steal some of the thunder from his son Luke after the younger Scott recently dropped the trailer for his debut film, a sci-fi thriller called Morgan. Leave it to Ridley to show the kids how it's done. The official Alien Facebook page debuted what was technically the first official photo from Scott's upcoming Alien prequel/Prometheus sequel, Alien: Covenant*, on Alien Day, which merely showed a mission patch for what will inevitably be the ill-fated mission of the Weyland-Yutani ship known as the Covenant. But now a new photo showing some actual footage from the movie just popped up for xenomorph fans to dissect.
The image, captured from from an on-set monitor from an angle most likely shot by first assistant cameraman Scott Dolan, AKAScotty," shows new lead actress Katherine Waterston in a bad spot. The photo of the short coiffed Waterston, whose character seems to be confirmed to be named Daniels given the hashtag from the image's Facebook post, also carries with it the tagline "Nowhere to run."
Take a look at the first new photo from the movie below:
Daniels probably has nowhere to run because once again humans decided to mess with whatever incarnation of the acid-blooded xenomorphs that Scott is using in the movie this time around. The dark, cramped quarters of where she is with exposed wires and panelling recalls the similarly claustrophobic interiors of the original film's ship called the Nostromo. It's a far cry from the sleek white spacecraft interiors seen in Prometheus.
Also, Waterston is looking pretty buff and ready to combat anything that might emerge from those flames at the end of the empty corridor. We can't help but get some Ripley vibes from her character. When you're reminiscent of Sigourney Weaver's absolutely badass heroine from the original series, you know they're on the right track.
Alien: Covenant is set to creep you out all over again when it hits theaters on August 4, 2017.