5 Predictions for 'Morgan', Luke Scott's Creepy New Sci-Fi Movie
The teaser trailer just dropped for what looks like this year's 'Ex Machina.'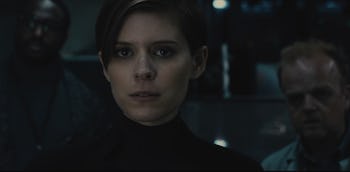 YouTube / 20th Century Fox
In a crowded summer movie season filled with a bunch of superheroes fighting each other, it's tough to forget that small-scale sci-fi stories can be done right, too. The trailer for Morgan, the new movie from filmmaker Luke Scott about a genetically modified being that revolts against the scientists that created her, just dropped and its giving us hope for the thinking-person's thrillers out there.
Here's the synopsis:
"A corporate troubleshooter (Kate Mara) is sent to a remote, top-secret location, where she is to investigate and evaluate a terrifying accident. She learns the event was triggered by a seemingly innocent "human," who presents a mystery of both infinite promise and incalculable danger."
It's perhaps no surprise that the director of this philosophical thriller is the son of legendary filmmaker Ridley Scott, who defined the modern cinematic sci-fi genre with classics like Alien and Blade Runner, and is currently hard at work filming the prequel, Alien: Covenant. Scott the younger previously worked on his father's film Exodus: Gods and Kings as an assistant director and is making his debut with Morgan.
Scott explained to Entertainment Weekly: "What Morgan really alludes to is human beings becoming, in a sense, the creator. Not in a traditional religious sense, but an idea that we have the capabilities to become our own creator. And what I suspect could happen — we've seen it in all these movies, whether it's Frankenstein or Metropolis — it's the creation of a being that is greater than the creator."
Between this and Alien: Covenant it seems like everyone in the Scott household is obsessed with the dangers of creating life. But just what can we expect from this new movie, anyhow? Here are five predications we have for this promising new release, set to hit theaters on September 2.
5. It proves Kate Mara can bounce back from box-office bombs.
Fantastic Four? Never heard of it. Mara, who's seen in the cryptic teaser as the "corporate troubleshooter" at the heart of the movie, is coming into her own as a star. She tried out the big summer blockbusters and it didn't work out too well, so it seems like she's choosing some different and more intelligent roles. It probably doesn't hurt that she previously appeared in Ridley Scott's The Martian, so it was easy for Luke Scott to recognize the best.
4. The Black List is still a viable thing.
The screenplay for Morgan is based on a script by screenwriter Seth W. Owen that was on the 2014 Black List, an annual group of the best un-produced screenplays. Lately, the good name of the Black List has been sullied by recent stinkers like Dirty Grandpa and Sex Tape, but Morgan seems like it can uphold its celebrated reputation.
3. It will make Anya Taylor-Joy a star.
You saw The Witch, right? If not, go do that right now. We'll wait. So the best part, besides the whole movie, was the ridiculously great lead performance by actress Anya Taylor-Joy. Though you can't tell by the teaser for Morgan, Taylor-Joy plays the genetically modified being, and will probably bring some humanity to a part that could easily be played much more broad with a less talented actor. The same challenge was met by actress Alicia Vikander when she played a robot in the similarly sci-fi thriller Ex Machina in 2015, and it only took her a year to get a Best Actress Oscar.
2. It'll continue the trend of famous people's kids being equally as talented as their parents.
Luke Scott has some big shoes to fill, just like the progeny of other ridiculously talented people like Francis Ford Coppola and David Bowie. Sofia Coppola made a name for herself, and Duncan Jones is trying to break out in a big way with this summer's Warcraft adaptation. But Luke Scott is starting, well, somewhere in the middle. Morgan is a studio movie with a top-notch cast also starring Paul Giamatti, Jennifer Jason Leigh, Michelle Yeoh, Toby Jones, Boyd Holbrook and Rose Leslie. So he's trying to make a big statement early on, and it looks like it'll work.
1. It will be this year's Ex Machina.
Speaking of Ex Machina, Morgan is definitely giving off the same vibes as filmmaker Alex Garland's thematically rich thriller, which also deals with the morality of creation, god, ethics, and all that weighty stuff. Thankfully the talented people behind Morgan seemed to case all those robust metaphors into a movie that will hopefully make for a rousing escapist tale that is just the beginning of Scott's promising career.