Mondo Tears 'Alien Day' Limb From Limb
Artist and Mondo creative director Jay Shaw exclusively  breaks down their badass posters and collectibles for 'Alien Day' on 4/26.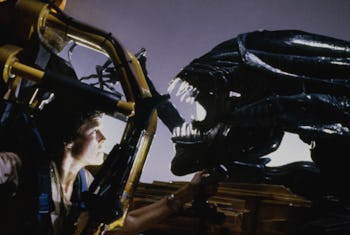 Alamo Drafthouse
Alien Day is less than a week away, meaning a celebration of the famed sci-fi series, including screenings of the first two Alien films and the release of an avalanche of awesome new merchandise, is nearly upon us. You could get excited about those replicas of Ripley's totally bonkers sneakers, or get your eyes ready for limited edition comic books, or plug in your headphones ready to listen to that new audio drama. Those are all well and good, but Mondo — the totally badass collectibles arm of film-friendly theater chain, the Alamo Drafthouse — is going all out for Alien Day. Inverse has an exclusive look at three of the gorgeous new limited edition posters they're debuting by artists like Kilian Eng and Mike Saputo.
One of the mad geniuses at Mondo behind it all, creative director Jay Shaw, has his own gloriously twisted poster design as well as an exclusive Ripley t-shirt that will be released on Mondotees.com on 4/26.
Inverse spoke to Shaw about Mondo's approach to Alien day, Eng and Saputo's designs, and why the Alien saga lends itself to endless design interpretations. Scroll down for looks at the exclusive art, but first feast your eyes on Shaw's super limited facehugger x-ray Alien poster design below:
When did Fox approach Mondo about creating stuff for Alien Day?
We went to Los Angeles in October last year to Fox to visit with them and talk about licenses for other stuff. They let us know that they were doing Alien Day, and we just went nuts. I think we almost forgot about the rest of the meeting. We just wanted to do everything, and they were really excited about it.
Did they have any stipulations, or were they open to the crazy approach Mondo is known for?
There's always stipulations and always restrictions, but the initial conversations were completely open. They wanted to hear what we were excited about. Being movie nerds, we start getting really deep especially with something like Alien and Aliens where there's a lore to it. We had a laundry list of like 50 things that we wanted to do, and we had to pare it down to what was realistic or exclude things that other licensors were planning on doing.
Why do you think the specific mythology of the Alien saga lends itself to such great artistic interpretations?
Especially the first film, the production value on that is higher than almost anything other than 2001. From Giger's designs of the actual alien, to the interiors, and the planet and what not, to the way they handled this weird utilitarian and corporatist future — everything from that film has been designed from the ground up. The Weyland-Yutani Corporation in the Alien universe is a real thing, and they treated it like a real thing.
So if you look for some of the details in the film, some of it will flash on-screen for half a second, but so much thought went into it. They thought what would a mug look like? What would a pack of cigarettes look like? What would uniforms look like? It went on and on, and they really created a design language. For a designer it's the easiest thing to get into. You jump right in and start freeze-framing the film and picking out stuff. I think it's one of the best designed films.
What kinds of things did Mondo brainstorm early on that you absolutely needed and what kinds of things could be left out?
There's a lot you can do with the xenomorph design, but it's been done before. For other things, if you were to do something like patches or pins you wouldn't want to do the xenomorph. You have things like the crew insignia, which denotes what position each of the members of the crew has. They actually wear these things on their lapels. So if you're making pins, why not do screen-accurate crew insignias? Or Nostromo patches or the Weyland-Yutani logo?
The thinking was, what we could actually extract from the film and go for what they were doing to make perfect representations of what was in the film?
You guys are debuting a ton of great poster designs for Alien Day. Kilian Eng's poster is the Alien variation on his Aliens design that was used on a poster and the vinyl soundtrack Mondo put out already. How did you approach differentiating those?
We actually asked Kilian to do everything), almost with the hopes that we would eventually [put everything out]((http://mondotees.com/collections/archive/products/aliens-original-motion-picture-soundtrack-horner-vinyl). Kilian built out all this stuff at the same time, but Aliens just happened to be one that we had ready first, and now Alien.
But he's done even more than that, and they're all coherent. He told us he had an idea for Alien, Aliens, and beyond, and he came up with the basic design framework for each of the films with the looming xenomorph and the human crew underneath. You don't want the exact same design across the board, but having a common thread is nice to make a series. When all of it comes out and you have your posters and soundtrack covers it's going to look really nice together.
What about the two variant posters by Mike Saputo? What was the approach to those, since the xenomorph is prominently featured on both variants.
It's tough to attack the Alien films without recognizing the alien itself. Mike submitted a couple of sketches and it was tough for everybody to decide which was going to be the one. But he'd been doing crazy elaborate creature designs and it made sense to let him go all out with the xenomorph. It's a similar take to Kilian but it's a little different. It's Mike's style with the xenomorph coming out of the space jockey structure.
Tell me a little bit about the design of the exclusive T-shirt you've created, which is only available at the Alamo Drafthouse Alien Day screenings. That obviously focuses on Ripley.
The original idea was to do a shirt for each member of the Nostromo crew. The first thing I wanted to do was a black and white photo of Harry Dean Stanton from Alien, because that's a shirt I'd want. Him and Yaphet Kotto — I'd wear those shirts everyday.
We found they did a lot of great publicity shots from the first film back in 1979 with everybody in full costume in front of white backgrounds. Those were absolutely perfect to use for a design. I mocked up a bunch, and it turned out it's a little more complicated than taking old photos and slapping them on shirts. That stuff goes through a lot in terms of licensing images, so it became very problematic to do the entire crew. Once we got down to it we picked one, and if you're going to pick one it has to be Ripley.
How did you take it from the publicity shot to the final digital-looking image on the shirt?
I broke it up as if it were a messy transmission. So she's kind of done in scan lines as if it might have been the last thing that Mother transmitted back to Weyland-Yutani before the Nostromo self-destructed to warn them that one of the expendables had made it out.
If you're wondering where to see these in real life, all posters will be on display at the Alamo Drafthouse South Lamar in their Alien pop-up store beginning Friday, 4/22. On Alien Day (4/26), the posters will be available for purchase at the pop-up store and will go on sale online at [MondoTees.com](http://mondotees.com/), so get your clicking fingers ready.