With EOTO, Lotus, and Infamous Stringdusters, Are Jam Bands About to Be Cool Again?
The recent indie approval of the much-maligned genre might pave the way for further social acceptance.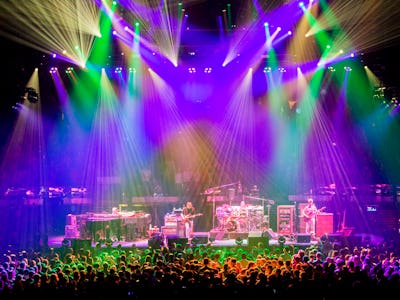 Phish
As I've detailed a few times here, I spent the better part of my childhood listening to and attending concerts by bands that liked to play long, improvisation-heavy sets. Ah, yes: the much-maligned jam band. Before, during, and after college, I went to more concerts put on by Phish, Widespread Panic, String Cheese Incident, moe., Umphrey's McGee, Yonder Mountain String Band, The Disco Biscuits, STS9, various iterations of the Grateful Dead, and low-level, dreadlocked improv imposters than you can shake a thai stick at. As I grew older — and, eventually, became a full-time music critic — boy, did I get a lot of shit for it. But, I stuck with my Phish and Dead fandom here into my 30s (the others have largely fallen by the wayside) and I've noticed a developing trend: acceptance. Here's how it all breaks down and what it might mean.
Indie Rockers Digging the Jams
This isn't a new concept. In 2009 and 2010, a few articles popped up, highlighting the connection between indie rock and jam bands. But, now, it's undeniable. Last week's release of The Day of the Dead, curated by The National, sounded the alarm: The Grateful Dead is hip again. Following on the heels of last year's Fare Thee Well shows, it seems like everyone wants a piece of the band. Now that the hipster musicians do, too — the tribute album features a member or two of pretty much every indie rock band (okay, that's an exaggeration) — there are a bunch of hippies who got shoved into their lockers by fans of The Clash laughing somewhere.
Now, the Dead is different than most jam bands. They're the architects of the form and its superlative example, not least because of Robert Hunter's deft, mythological lyrics — which is something many other jam bands lack. Still, admiration for the jam form doesn't stop with Jerry & Co. Members of Vampire Weekend, Real Estate, MGMT, and — of course — The National have pledged allegiance to Phish, too. And festivals like Bonnaroo have, literally, put the previously warring contingencies onstage together. It's slippery slope from there, my friends.
Indie Rockers Are Doing the Jamming
Here's where it counts. Not only are band members devotees of the long-form musical trip: They're doing it themselves. I'd hesitate to call War on Drugs, Phosphorescent, Tame Impala, or even Thee Oh Sees jam bands, but all participate in jamming out songs. On the other hand, I would say groups like My Morning Jacket, Woods, and Animal Collective are jam bands: The groups extend most songs outward from the recorded format, vary set lists, and command a tribe mentality around its fans. The term "jam band," here, isn't meant as an insult, just a descriptor. When I saw My Morning Jacket play Red Rocks last year, the group lasted some four hours. If that's not the work of a jam band, I don't know what is.
The Crowd
So, does this acceptance amongst the blogosphere and the coolest of the cool bands mean that the audience will follow suit? In the 1990s, jam bands were a born-again art form, cycled back around from the late 1960s. Phish was coming into its own, Jerry Garcia was on his last legs, and bands like Widespread Panic played into the hard-partying hands of frat boys everywhere. The crowds were relatively diverse. That burned out a bit over the years and the masses at jam fests were largely either looking to do drugs, longtime fans, or a combination thereof.
My recent forays to Phish shows suggest that the audience is broadening, yet again. Younger millennials seem to be less concerned with labels and stereotypes, and are more concerned with what they like. They would find an article like this very one unnecessary: "I like what I like. Why fuss over what it all means?" It's a sweeping generalization, to be sure, and I have no numerical research to back it up. But, anecdotally, I've noticed the audience at Phish shows including more dudes in Sperrys and less grey-haired guys talking about how it's their 87th show.
The frat crowd is being called back to the party and, now, the indie nerds might come along, too. If you add all of these ridiculously simple stereotypes up, you have a cycle peaking yet again. The kids have their own options, too, now, with more recent acts like EOTO, Lotus, Infamous Stringdusters, and Grace Potter leading the charge. In a time where dozens of teens are ODing at EDM shows, the jam band has somehow emerged as a tamer option. And, dare I say it, a socially acceptable one.