Phish Tour Tales, 50 Shows In
It's a lot of times, yeah. But not more than that one guy behind me is claiming.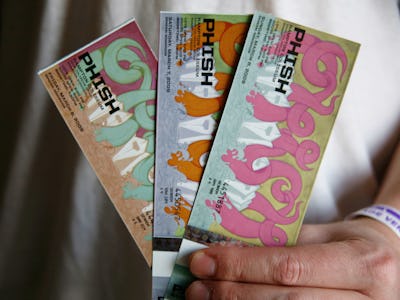 Getty Images
I've just returned — and am slowly recovering from — Phish's 10th festival, Magnaball. Held at Watkins Glen International racetrack in upstate New York, the three-day fest featured a show each night plus a Saturday afternoon set and a "secret" ambient jam later that night. It was a lot of music, and put my personal total at 52 Phish shows. Some of the most hardcore fans might scoff at that number, but — back here on planet Earth — it's a fairly large total. And, I believe, I've learned a thing or two about attending concerts featuring the Vermont quartet. These are my confessions.
Haters gon' hate
A lot of people really, really don't like Phish. It's hard to explain exactly why, but Nathan Rabin did about as good of a job as anyone in his book on Phans and Juggalos, You Don't Know Me but You Don't Like Me. There's a Platonic ideal of a Phish fan, right? It's a privileged white kid with dreadlocks, zonked out on seven different substances and selling veggie burritos in a parking lot. As it turns out, there are a lot of people that fit that description at the shows. But, as Rabin discovered, a lot of those people have more interesting stories than their tie-dyed shirts belie. Rabin wasn't a Phish fan when he started the book, but he is now.
Forget the lyrics
The music, itself, often runs into lyrical criticism. Guitarist Trey Anastasio has famously defended the band's lyricist, Tom Marshall, as a "genius." And while I can acknowledge that some of the band's phraseology is as cheesy as the grilled sandwiches on sale outside, others are mystifying and even rooted in mythology. (Still, there is a lot of silly talk of Jibboos, Guelah Papryus', and Golgi Apparati.) Really, though, the lyrics aren't the main attraction. It's four players who are in the top tier of their given instrument, winding and weaving songs together onstage. I'll take the goddamn Pepsi Challenge with Anastasio, Gordon, Fishman, and McConnell at the guitar, bass, drums, and keys against almost any other current lineup on the basis of sheer talent and dexterity.
I've heard the worst of it: Writing professionally about music for over a decade — mostly shoulder-to-shoulder with jaded New York City critics — I've been on the business end of eye-rolls galore. Fuck that noise. If you're serious about music, you're doing yourself a major disservice by not seeing the band play live, at least once. Get off your high horse and listen to "The Horse."
Get far-out
No, that's not some hippie-dippy crap. The best Phish shows I've seen have been off-the-beaten path, on a whim and located in places I didn't live very close to at the time. Phish often reserves "bust-outs" (songs they haven't played in a long time) or killer setlists for more obscure locales. If you're a true fan, you might just be there. For me, that'd be: Uniondale, New York (2/28/03), Burgettstown, Pennsylvania (7/29/03) and Hartford, Connecticut (10/27/13).
No regrets
I was asleep during the Tower Jam at It. I was there the night before the now-legendary '97 McNichols Arena show in Denver, but not that night. And I've been peeing during many a great jam. Oh well. It's all part of the experience.
Soak it all in
Get to the lot ahead of time and hang out at Shakedown Street (the pop-up, traveling market where you can purchase everything from acid to French bread pizza and gemstones). Talk to the dude standing next to you during setbreak. You'll have some great, if hazy, memories. A few of mine include going backstage at my first-ever show at Red Rocks in 1996, a glow war at a 2000 show during "You Enjoy Myself," Jay-Z coming out for two songs in Brooklyn, 24 hours of traffic for Coventry, rain in Baltimore two years ago, buffalo chicken over mac 'n' cheese at Magnaball and the way that — at Madison Square Garden — as the lights come back on, the smoky arena looks like it must've during hockey games in the 1970s. I have hundreds more, and it's one of the main reasons I keep going back.
Don't do other people's drugs
This might be more of a guideline than a rule, but, I offer this tale: At my second show as a high school freshman, I ended up getting a ticket in the 14th row at McNichols Arena in Denver. I was way pumped, but separated from my friend who was up in the rafters somewhere. As I waited for the band to come on, I got to chatting with the fellow next to me. He offered me some of his cookies, I cordially refused and we kept on talking. The band came on, played a couple of songs and, then, my new friend collapsed backward, smashing his chair in the process. The medics swooped in like Batman and he was gone in a flash. I'm not sure what became of him, but I've always been glad I didn't try his cookies.
The crowd is mellower now
Drugs are still around, sure, but the average age at the shows these days hovers around 35. Like the band, itself, Phans aren't getting twisted in the same way they once were. I have many memories of tripped-out eyeballs greeting me in the bathroom line or corduroyed bodies seizing on the ground. It's not quite as hectic these days, dudes with jobs staying in hotels instead of camping, taking cabs instead of driving. (I say "dudes" because it's still a very male-heavy scene.) There's something to be said for spending the extra money to make the shows more comfortable for yourself. And others: People at Phish shows don't smell as bad as they once did.
A side note: A friend was at the Philly shows a couple weeks back and there was a completely naked guy running around as hundreds in the crowd snapped photos. He evaded security for a long time before eventually being tackled. I guess he tried somebody else's drugs.
Two shows is best
One night in a given venue isn't enough. Three can be too much, ruining any hope of accomplishing anything over the next fortnight. Two shows in a row? Perfect. Goldilocks Phish.
Find your favorite tunes
Once you get to know the band, you'll identify some favorite songs. When they get played, you'll shit your pants. It's pretty simple. "Simple" is a Phish song. Here are a few songs that "get me off" (Trey's words) when they come on: "Split Open and Melt," "Harry Hood," "Harpua," "Down with Disease," "Tweezer Reprise," "Sample in a Jar," "It's Ice" and "Farmhouse." Just kidding about that last one: "Farmhouse" sucks.
They're peaking (again)
As anyone who has seen Phish recently will tell you, they're crushing it in their advancing years. Some say it's the best the group has been since the mid-'90s and I'd tend to agree. If you've never seen them before, now is as good of a time as any to get introduced. There are some new songs that aren't winners, yes, but others could emerge as standards in the years to come. And hopefully there are years to come.
Whatever you do, take care of your shoes
Phish shows have gross shit on the ground. Don't wear flip-flops.
Phish finishes up its summer tour at Dick's Sporting Good Park in Commerce City, Colorado, September 4-6.