The Latest 'Game of Thrones' Episode Photos Tease a Battle In King's Landing
According to newly released photos, Season 6, Episode 6 will focus on Arya and a battle in King's Landing.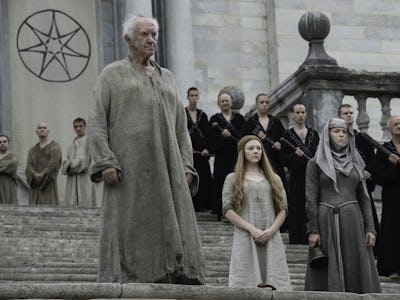 The next Game of Thrones episode — the sixth; we're in the home stretch of the sixth season! — will be called "Blood of my Blood." Its newly released photos finally confirm that Lyanna Stark is Jon Snow's mother.
Just kidding, Jon Snow isn't even in the photos or the episode synopsis, but that in no way gets him off the hook. It's entirely possible "Blood of My Blood" does indeed refer to Jon's blood and HBO is just being as wily as Littlefinger.
The official episode synopsis is as follows:
An old foe comes back into the picture. Gilly (Hannah Murray) meets Sam's (John Bradley) family. Arya (Maisie Williams) faces a difficult choice. Jaime (Nikolaj Coster-Waldau) faces off against the High Sparrow (Jonathan Pryce).
We've theorized that this old foe is Walder Frey but now we can use the photos for more clues.
Arya actually smiles
We assume something terrible will happen immediately after this, but perhaps this means that theater troupe introduced in "The Door" is no longer lampooning Ned Stark.
Margaery Prepares for a Walk of Shame
As the Lannisters and Tyrells said in "Book of The Stranger," they're not about to let Queen Margaery do the walk of shame. Even Cersei is on board with stopping it. We can assume, then, that though things don't look good for her here, Jaime's army will swoop in at the opportune moment.
Jaime's army swoops in
Here's where things get interesting. The conflict is Jaime versus the High Sparrow, but the following episode's synopsis ("The High Sparrow eyes another target. Jaime confronts a hero. Arya makes a plan. The North is reminded") spoils the fact that both men survive the clash. The intriguing part isn't who wins then, but how on earth this ends if neither man dies.
Daenerys still exists
Yep. There she is. Still doing things to the backdrop of dust.
Arya's murder target gets worried
The Cersei actress Arya is reluctant to kill does not look like she's having a good day — perhaps the deed will go down in "Blood of My Blood."
With a spotlight on Arya, whose story is gaining movement at long last, and some long-awaited action in King's Landing, "Blood of My Blood" looks like it will pack a punch.
"Blood of My Blood" airs at 9p.m. on Sunday May 29th on HBO.