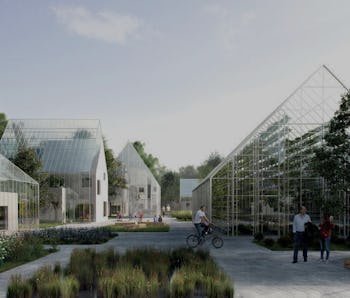 Innovation
An Amsterdam Suburb Wants to Be the Closed-Loop Community of the Future
The self-sustainable village outside Amsterdam will grow its own food, produce its own energy, and manage its own waste.
ReGen Villages
The brutal effects of climate change show no sign of relenting anytime soon, and they're only made more urgent by the continuously expanding global population. The need for regenerative development — neighborhoods that can sustain themselves — is a direct result of these two unstoppable forces working together.
A new neighborhood in the suburbs of Amsterdam seeks to grow its own food, generate its own power, and manage its own waste, providing an example of the kind of self-sufficient community we may see more of, as climate change becomes more exigent and the global population grows.
The neighborhood will be the first by ReGen Villages, a California-based regenerative residential company that designs communities through a closed-loop, self-sufficient network of systems. The company teamed up with Danish architecture firm Effekt on the design for the community, a 100-home village in the growing city of Almere, which is a 20-minute bus ride from Amsterdam.
The regenerative village predicts that it will grow several times more food than a farm of the same size using fewer resources through cutting-edge methods such as aeroponics, aquaponics, permaculture, food forests, and high-yield organic farming.
"We anticipate literally tons of abundant organic food every year," ReGen Villages CEO James Ehrlich, told Adele Peters of Fast CoExist.
The plan for waste management is also a closed system. Any compostable waste produced by households will feed livestock and soldier flies. The soldier flies will feed fish, and fish waste will fertilize an aquaculture system that produces fruits and vegetables, while the livestock waste will fertilize seasonal gardens.
The new community will use a combination of solar, solar thermal, wind, biomass, and geothermal for renewable energy production, and a smart grid will distribute power accordingly. What about the household waste that can't be composted? A biogas plant will convert it into power and water. An innovative water system will collect rainwater and channel it into the aquaponics system and to the seasonal gardens.
While ReGen is looking to expand throughout Europe after finishing the village outside Amsterdam, the company also has its sights set on adapting the model for drier climates. "If everybody in India and Africa wants the same kind of suburbs that we've been building so far, the planet's not going to make it," Ehrlich said. With the first ReGen village in Almere expected to be completed by 2017, expansion to other continents may not be that far off.