How to See Mars on May 30 When It Appears Bigger Than It Has in a Decade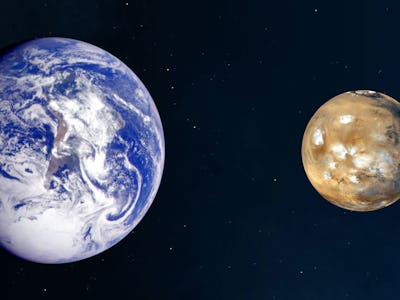 NASA's Marshall Space Flight Center
On May 30, Mars will be closer to Earth than it's been in a decade and will shine 10 times brighter than it did at the start of 2016. It's something that you are going to want to see, and luckily the people at Slooh, an observatory community, have got you: Slooh is hosting a live stream event beginning at 9 p.m. Eastern.
To watch the hour long program, just go here: live.slooh.com/stadium/live/the-red-planet-rules. The planet will make its closest approach at 5:35 p.m.
Mars' peak closeness to Earth will be streamed from Slooh's newest telescope, the Solar System telescope located at the Canary Island Observatory. While viewers check out the Red Planet, they can also listen to astronomers discuss the science of Mars, its cultural significance, and why it could very well be home to humans one day.
"The size of Mars varies more than any other planet, and we've waited a full decade for it to come this close and appear this large," said Slooh astronomer Bob Berman in a statement. "Throw in the fact that it's the only other planet on which humans will ever walk and you can understand why everyone will be turning in to this rare occasion."
On May 30, Mars will be approximately 46.8 million miles from Earth. In 2018, it will be even closer at 35.8 million miles. However, these distances still don't break the 2003 record of 34.6 million miles between Earth and Mars. Astronomers don't expect the two planets to be closer than that until August 28, 2287.
Earth and Mars' orbits become increasingly closer because they are on elliptical shaped paths, instead of circular ones. While the May 30 peak is unique, the Mars close approach actually happens about every 26 months.
The zig-zagging motion of Mars will ease up after Monday, officially resuming its normal eastward trajectory on June 30.