Tim Cook Says He Saw an iPhone in This 346-Year-Old Painting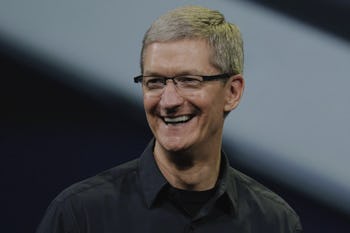 Digital Trends
Apple CEO Tim Cook may be a genius of technology, but when it comes to art criticism, he may want to leave it to the pros. We understand he's enthusiastic about Apple products, but his recent prediction that he spotted an iPhone in a Dutch masterpiece from 1670 just seems a bit off.
"It's tough to see, but I swear it's there," Cook told reporters.
Before Cook's recent appearance at Start-up Fest event in Amsterdam, he had the chance to tour Amsterdam's Rijksmuseum, where, apparently, his entire view of the world changed.
"I always thought I knew when the iPhone was invented, but now I'm not so sure anymore," Cook said.
At the museum, Cook encountered a painting entitled "Man hands a letter to a woman in a hall" by Pieter de Hooch, in which the letter admittedly does look a bit like an iPhone. (Here's a high-resolution image from Wikipedia.)
"Last night Neelie (the discussion moderator) took me over to look at some Rembrandt and in one of the paintings I was so shocked. There was an iPhone in one of the paintings," Cook said.
Here's a cropped version of the painting. Do you see what Tim sees?
The gaffe may have been a joke, but it also confirms a lot of stereotypes about Americans. Of course, our top executive cannot just appreciate Dutch culture for what it is, he has to transplant a 21-Century American gadget into an idyllic scene from the 17th century. (What's next, Tim, Apple Watches on Renaissance sculptures or Julius Caesar directing his troops into Gaul on the iPad?) You could also make a pretty good argument that visionaries find inspiration in the world and art around them, instead of images of their own works in the art of others.
But maybe Tim's onto something? Let's take a closer look. Enhance…
Now let's circle the area in question.
Enhance…
Enhance…
Chalk up another one for Tim.
He may not have to look too far for other Apple appearances in antiquity. Those videos of Steve Jobs launching the iPhone already look pretty dated, if kind of awesome.