Before the Lonely Island's 'Popstar', There Was 2gether
Andy Samberg & Co.'s first feature film has roots in the pre-viral-video fame of 2gether.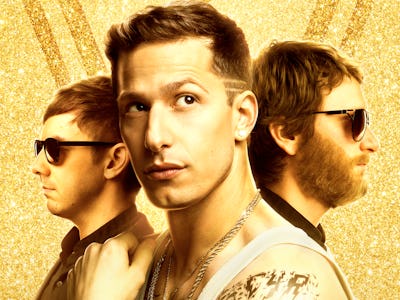 Collider
The Lonely Island's Popstar: Never Stop Never Stopping is out next week and it's a product of the band's long career of parody music.
Andy Samberg's main character in Popstar is a Justin Bieber-esque gross boy with a hyper-inflated ego on a quest to reclaim his image after his second album earns a rating of "the shit emoji." It joins a unique tradition of music parody films like Walk Hard and This Is Spinal Tap, while also playing off the recent spate of tour documentary films like Katy Perry: Part of Me and, of course, Justin Bieber: Never Say Never.
The Lonely Island has been a popular presence for 10 years now, and its position as a parody group turned movie stars recalls another, less remembered music mockumentary. But unlike Popstar's cameo-filled trailer that yells "so expensive," 2gether was a made-for-TV movie starring unknowns that spawned a pop phenomenon.
The MTV movie skewered the boy-band heyday of the '90s as it was coming to a close, just a year or two before its bastions NSync and the Backstreet Boys broke up for good. (One might hope that Popstar is marking a similar end to the Bieber Era, but his latest album says otherwise).2gether follows a down-and-out producer who goes on a mission to assemble a boy band that can take on his old group, Whoa! The movie is so pure and straightforward in it's lampooning that it only gets funnier as the memories of that time grow more distant.
2gether nails the melodies and vocal styles of '90s boy bands, but makes them more subtly silly. Perhaps because there was a more consistent sound to the genre, it was easy to turn the cheesiness of boy band music into something gross. The first minute of the movie hits you with the dulcet harmonizing and ribbed turtlenecks of Whoa! singing its hit single, "Rub One Out."
One of the top comments for the song on YouTube asks, "Call me crazy, but is this song about masturbation?" Yes, Jeff, it's definitely a song about masturbation.
Most of the 2gether's songs are less explicit parodies than "Rub One Out," but still feature comedic lyrics sung with teen heartthrob earnestness. What makes the songs funny is maybe 40 percent lyrics and 60 percent remember how cheesy this style of music was?
The Lonely Island's music does not rely on parodying a single genre, although the group plays frequently with rap and hip-hop. The humor is more exaggerated, and a lot of its videos straddle the line between song and skit thanks to SNL roots. The video is vital to the trio's form, since a lot of its comedy is visual, such as "The Creep" dance and the iconic "Jizz In My Pants" faces.
The Lonely Island's first big success came with Lazy Sunday in 2005 and the group's star quickly rose in the next through years thanks to the rise of YouTube, social media, and the viral video culture. Soon its music videos started racking up slicker productions and high profile cameos like Justin Timberlake, Akon, T-Pain, and Nicki Minaj.
The soundtrack of Popstar will be the group's fourth album. The first tracks, "I'm So Humble" and "Mona Lisa," are out and lack a little oomph without an accompanying video. "Mona Lisa" — "the original basic bitch" — sounds like a Lonely Island concept but loses something in an effort to be extra dumb and gross: "Mona Lisa, you're an overrated piece of shit."
2gether spawned a follow-up TV series, two albums (with one radio single), and several in-character live appearances opening for Britney Spears on her 2000 summer tour. (The same year that, perhaps not coincidentally, Conan launched his fake boy band, Dudez-A-Plenti.) In 2000, it did not get much bigger than opening for Britney. It was an impressive run of viral popularity in the pre-YouTube era, and ended prematurely with the death of one of the members.
The Lonely Island has taken an opposite path, starting with viral videos and TV performances that led to album releases and, ultimately, this film. Yet the trio has been friends since the 90s, so it's easy to imagine them listening to "Say It, Don't Spray It."
2gether was a pure parody for a simpler time. We can only hope Popstar is as purely funny. It's out June 3.