'Star Wars: A New Hope', Told In One Huge Infographic
Actor Mark Hamill admitted that it was the first time he had watched Star Wars, "since the '97 Special Edition [and] well worth it!"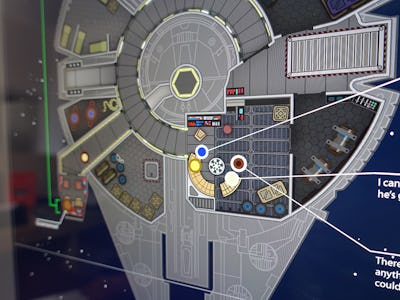 Martin Panchaud
Sometimes, you just want the big picture – all at once. For people who aren't buried in the lore of Star Wars, attempting to navigate the saga's story line can get a bit difficult. In 2012, 30 years of plot was turned into an alternate universe created by a group of writers, producers, and consultants – grouped into the entertaining (if a little flawed) Legends saga. It stands separate from the new canon, which includes all Marvel comics, TV shows, and video games released after the summer of 2014, as well as the original trilogy, the prequels, Star Wars: The Clone Wars, and Dark Horse's Darth Maul: Son of Dathomir comic series. Needless to say, things can be pretty confusing.
Luckily, for those who are curious and don't mind 30-year-old spoilers, a new hope has come. Artist and graphic novelist Martin Panchaud has created a 157-page illustrated infographic that details the ships, scenes, and lines from the saga's first film (but fourth sequential installment) Star Wars: A New Hope in detail. It's a bit of a read, but totally worth it.
The image was created in Adobe Illustrator CC in 2016, and measures 4,845.3 inches (or a whopping 400 feet) long.
"This long ribbon reminds the ancient Chinese script rolls that had to be rolled in and rolled out simultaneously in order to be read. I like this stretch between ages, cultures, and technologies," Panchaud wrote on his site. "However, internet likes short stories and summaries, quickly understandable contents. With my work I aimed to create a contrast to that."
The artist went on to credit the Star Wars fan community as his primary source, noting its welcoming presence and long-standing history.
On the official side there are all the merchandising products and on the other hand, there is an enormous amount of underground fan art, reenactments and costume conventions. All of them are made spontaneously with no other goal than to be a part of the Star Wars universe.
For anyone hoping to grab a print, set that delusion of grandeur aside now: Panchaud admitted that he has no intention to sell it. Still, the graphic is a gorgeous and nicely simple representation of the film that started it all. After repeat viewings of The Force Awakens since December, this might be the best time to check it out.