Critics Pan 'Warcraft: Orcs & Humans' As Your Run-Of-The-Mill Video Game Adaptation
After 10 years in the making, early reviews say that 'Warcraft' disappoints, much like many other video game-inspired films before it.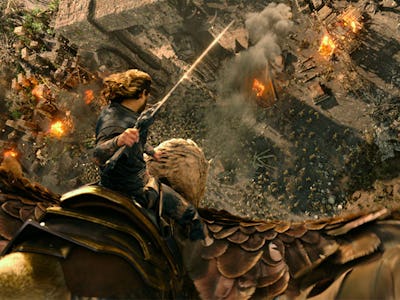 Warcraft / Blizzard
It has been a decade since the folks at Blizzard Entertainment first announced their intention to take what is arguably the company's most beloved video game property— for now — Warcraft: Orcs & Humans, to the big screen. With promises of epic adventures, fantastic battles, and the game's classic lore coming to life, much weighed on the success of this film.
While the marketing and press tour have both kicked into high gear leading up to the film's release, this week's embargo lift might spell certain doom for Blizzard's cinematic adaptation. It currently sits at a dismal 40 percent on Rotten Tomatoes. The film was made on a budget of $100 million, and apparently, sets the path for a potential sequel.
Described as "Battlefield Earth without the verve" by The Wrap, Warcraft is being roped in with other failures of video game films past, including the Resident Evil and Silent Hill franchises. Despite its phenomenal display of over 2,000 visual effects shots, the story is described as "simple" by THR, falling prey to the theory that elaborate visuals can save an otherwise less-than-impressive script.
Despite this, die-hard fans might find themselves perfectly content with how dedicated of an attempt the film is – or at least, that's what critics believe. " [Warcraft is] an unwaveringly earnest film that never owns up to exactly how campy every character, every conflict and every new realm truly is," writes Variety's Geoff Berkshire.
Warcraft: Orcs & Humans itself has seen a rapid decline in its user base in recent years; during the first half of 2015 alone, the game's subscription base dropped by a drastic 44 percent. With the film having long been in development, the folks at Blizzard are hoping to delight fans of Warcraft while bringing in new users with the lore of the universe. While early reviews may not be positive, Rotten Tomatoes indicates a 95 percent fan interest in the film — so perhaps audiences may have different opinions after they leave the theater.