Self-Racing Cars From Nvidia, Comma.ai, and Yamaha Hit the Track This Weekend
Silicon Valley angel investor Joshua Schachter is behind a new autonomous racing series.
by Kastalia Medrano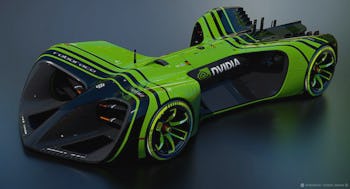 Nvidia.
Self-driving cars are so inexorably becoming part of our regular vernacular that I suppose it was never going to be long before we made the natural extension – self-racing cars. This weekend, 11 vehicles will enter Thunderhill Raceway in Willows, California for the test run of a new autonomous racing series.
Joshua Schachter, the Silicon Valley entrepreneur behind selfracingcars.com, began working on the event about three months ago and has plans to expand the series in the future. The itinerary this weekend isn't so much a traditional race as a string of events. On the raceway's two-mile west track – the smaller and more technical of its two different groups of four autonomous vehicles will set off in 25-minute sessions, meaning the cars will be driving pretty much all day (except for lunch, noted Schachter). A few other groups of semi-autonomous cars and teams testing other technologies like LIDAR units will take their turn, as well.
The focus of the series will be on the engineering challenges rather than producing the most expensive or high-end model. Schachter wants this series to be accessible to teams of enterprising college kids or people working on passion projects in their garages.
"When racing started, you didn't just get a car and go race; you had to make a car," Schachter, whose background is in electrical engineering, told Inverse. "It was as much about engineering as about racing. And the problem is there are no autonomous race cars. So the idea is to gather the people who are building relevant stuff in that space and see what happens, and then to continue [down the road] and add race-like aspects like timed trials. I want this to be accessible. I'm not trying to do Formula 1, where it's $100 million."
Be that as it may, the 11 vehicles signed up for this weekend's events do represent a number of tech startups and larger companies. Chris Anderson, CEO of 3D Robotics and former Wired Editor in Chief, is one of the few individuals bringing a vehicle. The budgets of the respective entries vary widely according to their designs, Schachter said. The event won't be livestreamed (too much standing around to be a spectator sport for now), but he plans to publish the data gathered (like GPS logs), though much of the onus there is on each respective team of designers.
"My wife and I are licensed race car drivers," Schachter said. "We race Miatas. It's not a high-end anything – the idea is to keep it like that. This is just the beginning."