Comixology Unlimited Offers Some of the Best Comics, But Creators Are Concerned
$5.99 a month sounds like a good deal for some of the best comics, but there is room for pause.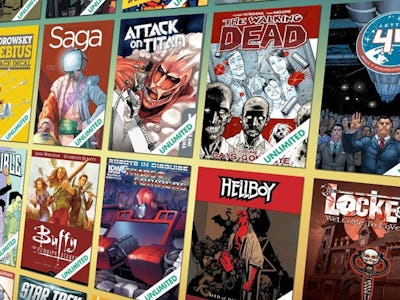 Comixology
Today, online comic retailer Comixology announced the launch of a new service called "Comixology Unlimited". Described as the Netflix of comics, the Amazon-owned digital retailer is offering subscribers access to some of the best comics from Image and Dark Horse for a monthly fee of $5.99. This includes amazing titles like Saga, Hellboy, Lumberjanes, the new Archie comics, and more. Marvel and DC Comics are not included with Unlimited, probably due to the fact that Marvel offers a similar service for its own library, called — you guessed it — Marvel Unlimited.
Either way, this is a great way to introduce new readers to some of the best comics currently available without having to pay the quickly scaling costs to get into said comics.
However there are some developing questions regarding the new service. First of all, Comixology Unlimited comes with a caveat. According to Polygon, Unlimited only offers the first arc, or books in a series. If you like what you read and want to read more, you'll have to purchase the books the service doesn't include in its subscription. Like Netflix, Comixology Unlimited will cycle through their catalog, adding and removing titles on a timed basis. We don't know for sure what this means exactly, if they'll add more story arcs and books to an available series or bringing in new titles each time.
More importantly, any subscription service like Netflix, Spotify, or Comixology Unlimited comes with questions of fair compensation to creators. While we don't know the exact nature of the deal Comixology and Amazon struck with its licensing partners for the service, several artists, writers, and publishers have sounded off on Twitter about their exact relationship, or lack thereof, with Comixology regarding their books appearing on the service.
We don't necessarily know the whole story regarding how exactly Comixology penned the deal with publishers for Comixology Unlimited. These types of subscriptions often do a great deal of good bringing consumers comics they necessarily wouldn't have started reading.
On the other hand, however, many of these subscription based plans have come under fire in the past over fair compensation. After all, exposure doesn't necessarily translate into profits for creators and writers. We'll have to see how exactly Comixology and Amazon handle creator concerns.