A Guide to Binging Digital Comics
Digital comic purchases are a viable alternative with so many options to choose from.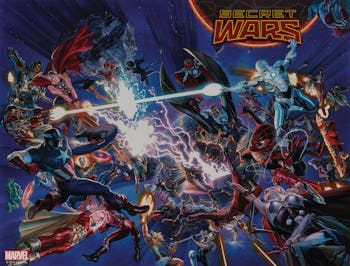 Marvel Comics
In the age of Netflix, almost anything can be delivered directly to you. The trade-off, of course, is missing out on the beautiful physical artifact of an album, or Blu-ray, or, in this case, comic book. Still, that shouldn't deter you if you've decided to pursue the route of digital-only comic book purchases, and there's no better time to start amassing a large digital collection than now. Here is a guide of how to best navigate this digital frontier.
Choose a service
ComiXology is probably the biggest name in digital comic distribution, basically a one-stop service from all the big publishers like Marvel, DC, and Image. Also, since Amazon purchased the service in 2014, ComiXology is directly compatible with the Amazon platform and devices. That means if you have an Amazon account, or any of its many e-readers or tablets, you'll also have access to ComiXology's massive library.
In addition, all the main publishers basically have their own digital platform so you can buy digital comics straight from Marvel or DC. In fact, Marvel also has a Netflix-style Marvel Unlimited service which allows readers to browse through Marvel's expansive catalog for $9.99 a month. This is, of course, if you're only interested in Marvel comics — which is fantastic — but you'll miss out on diversifying your collection.
For a broader selection, Comic Blitz offers a similar deal where readers can browse through a large catalog of some of the biggest independent publishers for $9.99 a month, from anywhere.
The Best Kinds of Comics to Read Online
There's nothing inherently better about digital PDFs of comics as opposed to the physical books. The quality in which most comics can be downloaded are good, but not necessarily a better reading experience than flipping through real pages. With that said, it's actually more about the access that make digital comics so worthwhile.
Catching up on a big publisher-wide event like DC's Convergence or Marvel's Secret Wars is a huge pain because of all the hundreds of books included in any given event. That's why digital services have the advantage, allowing readers to easily track down the large web of comics tied to an event. Whether it's single issues or a tie-in series, digital libraries are an even more convenient one-stop shop for comics than the nearest store, which might have missing back issues or only certain books.
Comic book stores order books from publishers, and sometimes smaller prints get lost in the mad dash to stock shelves of the latest and greatest from big names like Marvel, DC, and Image. That's why smaller publishers like Boom! Studios or Oni Press benefit from digital platforms that will carry its titles, as opposed to stores that might only stock recognizable titles.
There will always be the lingering misconception that just because something is old, something is valuable, and by that logic all old comics are worth thousands. Not true, but that doesn't mean old comics are easy to find. Digital distributors are slowly building a huge backlog of older titles, and, honestly, it's probably the only reliable marketplace to find these older books outside of actual hobby shops.
Digital Comic Alternatives
Another interesting venue for digital-only comic reading is in webcomics. Services like Tapas, Stela, and Line Webtoons (from the popular messaging app of the same name) distribute comics directly from creators to mobile apps. Stela has a line of exclusive comics available for a monthly fee, while Tapas and Line offer free comics from creators who often post the same content to their own networks. However, Tapas has recently been toying with paywalls for exclusive content. This decision is meant to help creators monetize their hard work, so it's for a good cause.
E-readers and Tablets
The drawback to digital collections is that tablets and e-readers are almost a must for anyone amassing a large collection of digital books. Reading on a computer screen is fine, but for a digitized version of a book, tablets are superior. Comics being colored also means that an LCD screen is preferable to e-ink, which only produces black and white on most e-readers. Incidentally, manga, which is all black-and-white, looks great on e-ink screens, and many manga publishers are using digital marketplaces to simultaneously publish the most recent chapters of many different Japanese comic series.
DRM and PDFs
The final thing to know is that some purchases, mostly Marvel and DC, are only licensed to view the comics without any option to download a DRM-free copy to save on your computer. This is expected in today's world of digital distribution, but Image and other independent outlets usually offer DRM-free PDFs to save offline, which is a huge benefit for collectors.