Don't Worry, Love -- Here's How to Play Overwatch Tonight
Blizzard's new multiplayer FPS ran its beta for ten days -- and now, fans can own it for good.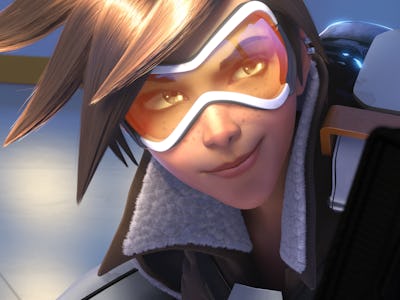 Blizzard
The Cavalry's arrived! Today, Blizzard's Overwatch hits shelves (actual and digital) worldwide, simultaneously. You'll want to get on right away — if the excitement on social media means anything, the flood gates will open) with a tidal wave. Spinning "story" with "shooter", Overwatch has been keeping the hype as real as it can get, by releasing short films that explore the backgrounds and abilities among the game's 21-character roster.
Players who want the game immediately can grab it online immediately for their respective consoles (Playstation 4, Xbox One) or PC, but the game's special edition is packed with an array of features that are both useful and just plain fun.
Called the Origins Edition, the special box set includes Overwatch, origin skins for 5 heroes, and a bonus content from multiple Blizzard titled. Some of the smaller in-game goodies includes the adorable Baby Winston pet, the Tracer Hero edition, and player portraits of other characters like Reaper, Pharah, Winston, Bastion, and Soldier: 76.
The game's backstory is an emotional tale of a possible future: after advanced robots called the Omnics turn on humans, the agents of Overwatch are brought in to protect the peace — whether Human or Omnic. Years later, Overwatch is disbanded, and our new civilization tensely navigates peace between the two parties, but hatred and bigotry have started to bring back the horrifying violence of the past. Desperate to do something, Winston — a brilliant scientist (and large super-powered gorilla) who formerly operated as an agent himself — brings the team back together again to take on new, dangerous threats to society.
Overwatch's beta gave players a taste of a new-age, multiplayer experience, weaving its story out of the game and into new comics, as well as the stellar short films mentioned before. The servers are now online, agents. Get out there and save the world.