'The Flash' Season 2 Finale Trailer Showcases the Race Between Flash and Zoom
On your marks, get set with the trailer for "The Race of His Life."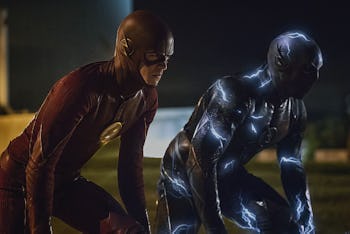 The CW
It all comes down to this. Barry Allen – better known as the DC Comics superhero runner, the Flash – goes one-on-one against his nemesis Zoom, the obsidian speed demon in the upcoming Season 2 finale of the CW's The Flash, "The Race of His Life." It'll be a contest for the ages as Zoom hungers for more of Flash's Speed Force, but Barry isn't going to relinquish it without a fight.
The Flash has been a winning series for DC Comics and the CW network, and its second season has taken legitimately great and exciting twists and turns with a heartwarming family drama at the center. There's still many unanswered questions as The Flash approaches the end of its sophomore year: Who is the Masked Man? Where did the name "Jay Garrick" come from (besides Flash comics from the '40s)? Will Wally West and Jesse become speedsters too? And most of all, will Barry embrace his inner darkness to beat Zoom? It's entirely possible.
Most of all, what could the Season 2 finale do to set-up for Season 3? It'll be a big one, what with a massive cross-over with Arrow, Legends of Tomorrow, and Supergirl on the horizon. But that's after Barry deals with Zoom.
The Flash airs its Season 2 finale on Tuesday, May 24 on the CW.