Android Development Offered for Pepper the Robot, a Totally Not-Suspicious Robot Friend
Pepper the Robot is totally not trying to take over the world, claims suspicious commercial.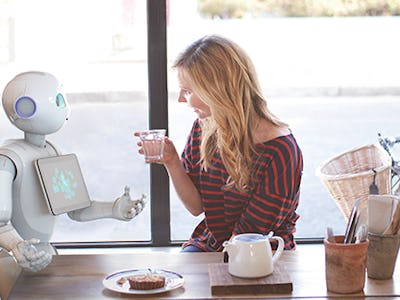 Alderbaran Robotics
Google announced at their annual I/O event this week that Pepper the Robot, developed by Japanese communications giant SoftBank and Aldebaran Robotics, will now offer Android SDK to programmers and engineers. This comes with the announcement that Pepper outposts will be built in San Francisco so developers can get a better face-to-face with the adorable robot.
While Pepper currently offers an SDK based on IBM's Watson and Microsoft Azure, an Android SDK opens up Pepper to one of the most popular and widely developed platforms currently in tech. Now, more developers can have access to Pepper, creating new programs and usages to progress Pepper's development.
SoftBank's outposts for Pepper across San Francisco is so that developers interested with Pepper development can get a first-hand look at the robot in the U.S. where it has yet to be released. Pepper is currently sold in Japan and will be available in the U.S. for pre-sale this July, currently priced at JPY 198,000 (approx. $1,800 USD).
Billed as an "emotional support" robot, Pepper is not meant to replace jobs, or vacuum floors, or, god forbid, have sex with. Instead, a new trailer bills Pepper as a multi-purpose robot that can be programmed to be fun-loving and helpful, designed primarily for human interaction. Basically, it's a robot that you can high-five and be buds with if you so choose, although the commercial's tone seems really adamant to prove how not evil Pepper is, which seems like an oddly specific thing to bring up.