3 Ways Fourth-Place Apple TV Can Climb Into First
The "future of television" could be doing better.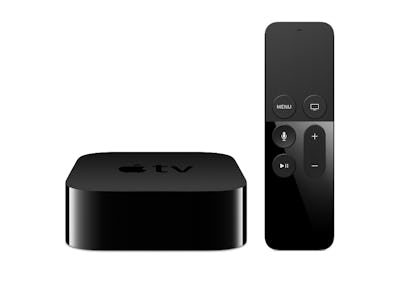 Apple
Apple released the fourth-generation Apple TV in October 2015 to big fanfare. It was the first model that could run apps, as part of a new "tvOS" platform. Unfortunately, it may not be setting the world alight as much as Apple had hoped. Parks Associates data released Wednesday shows that, despite having the largest year-over-year increase in unit sales, it still ranks fourth in streaming boxes behind the Roku, Fire TV, and Chromecast. Here are three ways Apple can get more people putting Apple TVs under their sets.
Lower the price
Apple TV seems like a reasonable price. $149 or $199, depending on the storage size. The company still sells the third-gen model for $69. Seems like a reasonable amount to spend.
Look at the competition, though: Chromecast is $35. The Fire TV Stick is $39, while the top-of-the-range gaming Fire TV is $139. The Roku starts at $39, but even the most expensive 4K Roku is $119. Budget-conscious consumers, who want a simple way to watch Netflix on their new TV, will be hard-pressed to justify spending that much more for Apple's solution.
An alternative to lowering the price, which could undermine the premium television experience Apple is aiming for, could be to launch a fifth-generation Apple TV later this year at the current price point and sell the existing one at a lower price. This would be unusual for Apple, though, who has historically waited a long time between Apple TV updates. The fourth version launched three-and-a-half years after the third version.
When CEO Tim Cook launched the fourth-generation Apple TV, he said that "the future of television is apps." That would be a good reason to spend the extra cash if there were more apps, but the selection is a bit lackluster.
More apps
An Amazon support rep said back in November it planned to release a Prime Video streaming app for Apple TV "in a few weeks," but it's May and there's still no sign. SlingTV is still also missing, although a MacRumors post back in March briefly got everyone's hopes up.
Outside the United States, the prospects are worse. Of the U.K.'s four major over-the-air TV providers, the BBC is the only one that has released an Apple TV app. ITV, Channel 4, and Channel 5 are still nowhere to be seen (there is a Sky News app, though).
Unfortunately, it's something of a chicken-and-egg situation. Developers won't plough resources into a tiny market for small benefits, but consumers won't buy into a platform if developer support looks weak.
Drop the remote requirement
Apple TV requires its apps to use the bundled touchpad remote. That sounds fair, but the new Apple TV also introduces support for more traditional gamepad controllers. Developers are restricted by the requirement to support remotes, as they cannot take advantage of the numerous extra buttons included on gamepads.
The A8 processor is a powerful chip, and it could run some really impressive games and apps. Until Apple loosens the restrictions, however, it may stay in the realm of casual gaming.
Apple has all the makings of a sure-fire hit on its hands, and if its current growth continues, the Apple TV could hit the number one spot. But it's not there yet, and Apple can't rest on its laurels if it wants to succeed.