Why Red Rocks Is the Best Music Venue in the U.S.
You better get out of my face with that Gorge nonsense.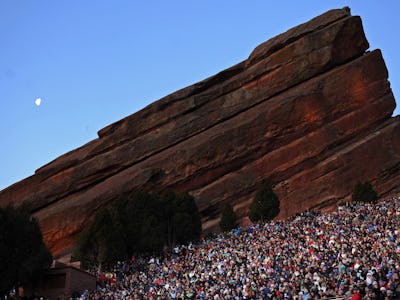 Getty Images
It's been a busy couple of months in Morrison, Colorado. Last week, the Grateful Dead — finally — officially released its July 8, 1978 concert from Red Rocks, widely considered one of the greatest shows in the band's history. And April saw the storied venue kick off its concert series for the year. It's a particularly strong season for the joint, an appropriately stacked billing for what happens to be its 75th anniversary. Now is as good as a time as ever to reassert what many already know: that Red Rocks is the best venue in the country.
Just a few weeks ago, Consequence of Sound put out a ranking of "The 100 Greatest American Concert Venues." The list is, for the most part, garbage. I've been to most of the places in the top ten — Red Rocks ranks a ridiculous 7th. For instance, Red Rocks is bested by one slot by Stubb's. Now, I love hitting up Stubb's during SXSW for some average BBQ and dirt kicked in my face, but it ain't the sixth-best venue in the country. And it sure as hell ain't better than Red Rocks. The Bowery Ballroom!? It's probably the best small-to-medium-sized theater in the country — almost entirely because of booking — but it's not better than, well, you know. And I love the Bowery Ballroom. I'm going there tonight! I know what you're gonna say now: The Gorge. Okay, the Gorge is pretty cool. Still, it's a number two; I might even say it's a distant one.
Now, for the record, I am extremely biased — unequivocally so. Like my boys over at The Denver Post's Reverb (where I used to contribute), my jaw hit the floor looking at this list. (As Reverb points out, Rolling Stone was much more measured when it ranked Red Rocks at numero uno.) See, I grew up in Denver — about 30 minutes away — and, so, I grew up going to Red Rocks. The views are unrivaled, the sound pristine, and the bonhomie vast. In honor of its 75th anniversary, I present a bit of personal history at Red Rocks Amphitheatre:
August 4, 1996 marks my first visit to Red Rocks for a proper rock & roll concert. It just happened to be a Phish show, a band that I would see many, many more times. I attended the show with the music critic of The Rocky Mountain News, Michael Mehle, who was a colleague of my father's. (Being in eighth grade, my parents figured I could use adult supervision for this field trip to see one of my new favorite bands.) Scores of fans without tickets climbed over the rocks to get inside and when Mehle went backstage to file his review on an old-school internet connection, he took me with him and we checked out the signatures on the walls of the many groups who had come before. Then, I watched Phish close out its set from the stairs on the side of the stage. The following nights, the ticketless Phans "rioted" in the streets of Morrison, resulting in an unofficial Phish ban from Red Rocks that lasted 13 years.
Santana played behind Supernatural in 1999. My high school friends and I were deluged by rain and, when we returned to a pal's house, I threw my new, soaked tie-dye t-shirt on his parents' porch. When we awoke the next day, I had unintentionally stained the cement with my purchase. (I was also recently reminded that we picked up a hitchhiker on our way home.) My parents had seen Santana at Red Rocks in the '70s and my dad told me it was difficult to see the stage because of all of the pot smoke.
Also in 1999, KTCL's Rave on the Rocks brought Fatboy Slim and the Chemical Brothers to the Rocks. I hadn't seen any electronic music live before — and hadn't listened to much of it, at all. The Chemical Brothers, in particular, slayed and got me pumped on a whole new genre.
In 2000, Neil Young played three nights at Red Rocks. The high school crew caught the first and third nights, which ended up being a pretty big mistake: He played the same set. On the third night, I had snuck two 40s into the venue — one stashed in the front of my pants and another in the back. I still think this is an amazing accomplishment. What was not amazing was my reaction to the same songs being played. Drunk, young, and angry, I loudly protested to the dismay of our neighbors and may or may not have accidentally peed on their quilt. Young released recordings from these shows as a DVD/live album/evidence for the police against me.
Throughout college and afterward, I attended far too many Widespread Panic — and String Cheese Incident — concerts at Red Rocks. It was more about the party than the concert itself, our favorite tailgating lot being the Upper South Lot. (For some reason, one friend, Matt, nicknamed the expanse of dirt "The Reggae Boys" and the name stuck.) Memories from those shows are hazy but include locking myself in a bathroom stall as I tripped balls on mushrooms. Was it 10 minutes? Two hours? Zero idea.
My buddy, Danny, and I would sometimes head up to the lot to sell beers and hang out ("One for two, three for five") without a ticket to that night's show. Sometimes we got in and sometimes we didn't. One night in 2004, we hadn't really tried too hard when a nice woman rushing into the venue handed us two free "miracles" to the Allman Brothers.
Ween and the Flaming Lips split a bill in '06. That show was so long I'm surprised it didn't last until '07.
Phish returned to Red Rocks in 2009 and I took my mother one night. She had a blast and we've attended a couple of other shows there together: Alison Krauss with Robert Plant, and Vampire Weekend. We have the bomb tailgate operation.
Also in 2009, I hit up Monolith — the venue's defunct indie rock fest. MF Doom, The Walkmen, and Yeah Yeah Yeahs played (as did many others). The powers that be should fire that back up again.
Some dude barfed on me at a Wilco show in 2012.
Recent forays to the venue have included stellar shows by Jack White, My Morning Jacket, and Built to Spill. I've said it before and I'll say it again: Really, any show you go to at Red Rocks will stand out for one reason or another. So, put it on the bucket list and maybe I'll see you there this summer. You'll find me selling one for two, three for five in the Reggae Boys.