Growing Up Foodie: The Son of a Restaurant Critic on Eating Today
I will rock McDonald's breakfast like whoa.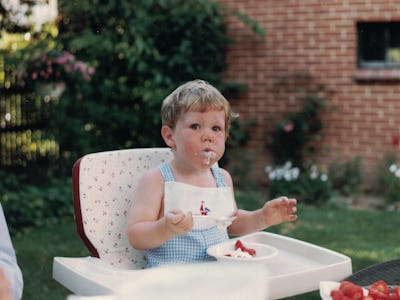 Colin St. John
My father, Bill, has written and taught about food and wine for more than 40 years. He just ended a five-year stint as the wine columnist for The Chicago Tribune: a retirement of sorts. While I was growing up in Colorado, he was a restaurant critic. Well, in many respects, he was the restaurant critic. From 1983 (the year I was born) until 2002, he wrote for The Rocky Mountain News, Microsoft's Sidewalk, and The Denver Post, in that order. He wrote and taught about wine during that time, too, but I'll always remember my dad as the guy who had to use a fake name when making a reservation. (No, he never wore a disguise.) That's because — for all of those years — my dad, my mom, and I ate out, anonymously, an average of three nights a week. And all of that food, from the white-table-clothed escargot to gyros on the street, irrevocably formed the eater I am today.
Just yesterday, I went to a hole-in-the-wall taco joint in Denver. I hadn't been there before, but I'd done my research. La Calle has won accolades from Westword, Zagat, and The Denver Post, among others. Mexican's my jam; I was even a little embarrassed I hadn't made the trip yet. I walked into the old house — painted in bright Broncos orange — and ordered three tacos: al pastor, bistec, lengua. Coupled with a horchata in a behemoth styrofoam boat, they were all delicious. But one stood out to me: the lengua, or "tongue" taco. The cow's licker had been braised to perfection — it melted on mine but held firm enough and wasn't too viscid — and required only a simple garnish of onion, cilantro, and a dash of salsa. I ordered one more.
In my experience, a lot of people who grew up in the same socioeconomic circumstances as me don't eat much tongue. It's "weird," taboo. Surely, there are more white guys from the upper-middle class who are adventuresome eaters in places like New York City, Chicago, and San Francisco. When you have a place like Jackson Heights, Queens nearby, you might end up trying out-there offerings. But you also might not. You might stick to what you know. For me, with food, I ended up having to know a lot. Here is an excerpt from a Wine & Spirits column my father wrote in 1990:
Over the past seven years, I have eaten — and occasionally enjoyed — octopus stew, poached veal head, pork brains, the testicles of the turkey (and those of the lamb, bull, calf and pig), the reproductive organs of the sea urchin — the only edible part — goat meat, the spinal cord of a cow, lulo (an African fruit), omasum (beef stomach), duck feet, chicken feet, frogs' legs, lambs' eyes, durian (a fruit banned by Singapore Airlines because of its foul, rotten-fish-like smell), kazunoko konbu (sheets of seaweed encrusted with unseasoned, dried cod eggs), cactus leaves, baby fish, baby eels, monkfish liver, diamondback rattlesnake meat, buffalo tongue, jelly fish, ostrich, emu, caribou, wild boar, turtle, antelope, bear and lion meat.
He had 12 years — and many more oddities — to go. And it's not to say I ate all of those things, but I ate many. When my sixth-grade teacher asked our class to do an essay on our favorite food, I chose Rocky Mountain Oysters. I'm sure a little bit of it was for shock value, but I genuinely enjoyed bull's testicles — still do. In fact, the place where I learned to love them — the Western-themed Fort restaurant — published my little testimony as a sidebar in its first cookbook.
This isn't all to say that we St. Johns are Zimmern-level badasses: It's just that we ate a lot of different kinds of foods, and often. My father was usually in the process of reviewing two restaurants at once and he would eat at a place three — sometimes four — times for each critique. (Even if a place was awful upon a first visit, he felt that he had to give 'em a fair shake.) That meant that one week we would be familiar faces at a Thai place and, another, an Ethiopian joint. I remember a lot of, "Oh, you must've liked it! You came back for more!" They had no idea.
We rubbed elbows on the high end, too. My father's mother was born in Belgium and had European dining sensibilities. Her husband — my grandfather — followed suit and established a wine cellar at each home they moved to. My father got bit by the bug. He helped to found the Aspen Food & Wine Festival, for instance, and we would regularly travel to wine tastings, vineyards, and Europe. When I was younger, I thought fine dining was fun. I got to dress up. When my mom couldn't join us, my dad and I would play a chess match at the table. My parents would bring a bottle of Martinelli's sparkling cider to serve me in a champagne glass. (Little did the waiters know that, at home, my parents did as the Europeans did: They served me a glass of wine with dinner, when I was old enough to cut my own food. I didn't like it much, but it was there.)
So, I'm not a picky eater today. How could I be? I was conditioned not to be. But, there was a bit of a revolution, of course. When I got to choose, as a kid, it was burgers and pizza. And it still can be. Often. When I went off to college, other kids may have gotten off by experimenting with sex and drugs. I was particularly excited to make my own food decisions. What did I find? I made much of the same ones. I chose foods that others may not have grown up eating: Indian or Japanese, perhaps. But, I loved introducing them to my new pals much in the same way my father introduced them to me.
I eat McDonald's sometimes. (I think their breakfast is delicious and, in particular, those little burritos with cheese so sticky it's hard to swallow.) I've eaten more than my fair share of Chipotle. Taco Bell is a guilty pleasure. And there's beer. While my father never got to know it well, I grew to worship it. I'm always searching for the next great IPA and honor craft brewing, but I also love the cheap stuff. I drink a lot of Coors Light, especially at a ballgame. Or watching a ballgame on TV. Or maybe just thinking about one. I love dive bars and often order Rust Belt faves like Old Style or Hamm's. I used to — and every so often nowadays, on some kind of a dare — drink 40s of malt liquor. Olde Engish 800 and Mickey's are my favorite.
I don't like stuffy places as much as I once did. I've been to restaurants like Eleven Madison Park in New York and L'Espalier in Boston, where I find that the pomp and circumstance can overshadow the food. They can be a trip sometimes, but I'm often left feeling intimidated, uncomfortable, and broke.
My favorite restaurant in the world is the Gramercy Tavern in New York City. It's not inexpensive, no, but you can go for lunch and get out of there in your current tax bracket. I always sit in the front room, which is more casual, and often at the bar. The food is always great, the staff is extremely friendly and the room — decorated in seasonal trappings — makes you feel as cozy as you can in Manhattan. This is where I settle into my most comfortable self. Eating very good food, in a welcoming place, without the pretense.
But I've found that I don't necessarily like to make cuisine decisions. My girlfriend was born into an Italian family that stuck mostly to Italian food. She adores pasta, a dish that in my house was a last-minute Sunday evening dinner. Gradually I gained a new appreciation for pasta's myriad of flavors and shapes: it's its own section in the food library. If I hadn't dated this woman, I would never have been to all of the restaurants to which I've gone. For that, I'm happy to be led, as I have been since my parents were calling the culinary shots. Most children's parents tell them what to eat. Mine just fed me more options.