Terrorism Suspected as EgyptAir Flight "Swerved Then Plunged"
Three air marshals were on board, but terrorism is not ruled out.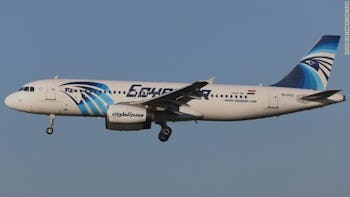 The EgyptAir flight MS804 that went missing early Thursday morning just inside of Egyptian airspace while running a routine Paris to Cairo route with 66 passengers on board "swerved then plunged" into the Mediterranean.
Egypt's minister of civil aviation Sherif Fathy said this morning to reporters: "If you analyze the situation properly the possibility of having a terror attack is higher than the possibility of having a technical [problem]."
Greek authorities had last tried to make contact with the plane ten miles before it left Greece's airspace but received no response. As Egyptian and Greek authorities mounted a search for the plane, French president Francois Hollande said that the "terrorist hypothesis" was being investigated.
"At 3:37 a.m. local time, immediately after the aircraft entered Cairo airspace at 37,000 feet, the aircraft swerved 90 degrees left and then 360 degrees to the right and descended from 37,000 feet to 15,000 feet and then 10,000 feet, when we lost the signal," Panos Kammenos told reporters in Athens.
French authorities confirmed that three air marshals were traveling on board the flight, the "usual practice" since Egypt increased flight security in the last year. A distress call from the area of the crash was also received two hours after losing contact with the plane, but authorities have not been able to confirm it was from MS804.
The swerving descent and close to 30 minutes of communications silence has led several analysts to predict that terrorism was the cause of the crash. Alexander Bortnikov, the head of Russia's Federal Security Service, said terrorism was "most likely" behind the plane's disappearance, though he did not elaborate on why he believes so. Donald Trump, the presumptive Republican nominee for president, also tweeted that it "looks like yet another terrorist attack."
CNN's aviation analyst Richard Quest did suggest that mechanical failure remained a possibility that shouldn't be ruled out.
"Either they were overwhelmed by a mechanical issue or something terror related was going on in that cockpit. There's a 30-minute gap [in communication] and I think that is crucial," Quest said on the air.
Through Twitter, EgyptAir is urging media outlets and readers not to draw any conclusions about the cause of the crash until an investigation can be completed. The airline has also released the nationalities of the 56 passengers members: 30 Egyptian, 15 French, 2 Iraqi, 1 Algerian, 1 British, 1 Belgian, 1 Canadian, 1 Chadian, 1 Kuwaiti, 1 Portuguese, 1 Saudi, and 1 Sudanese.